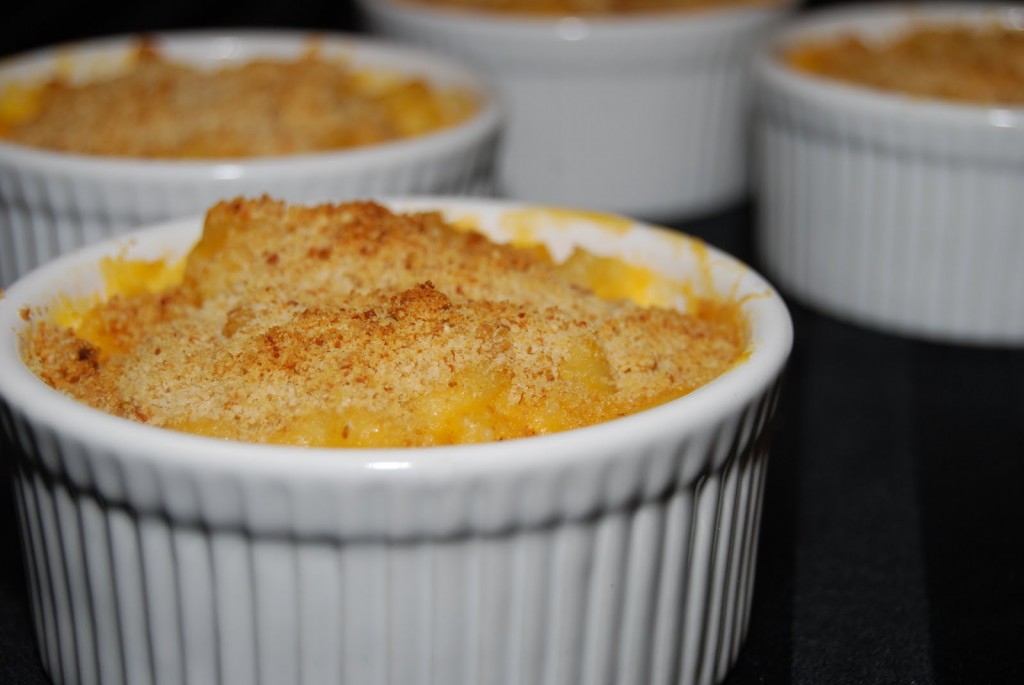 Macaroni. Its good in "Easy" form (although I ate a lifetimes worth freshman year in the dorms). Its good in boxed form. Its even good in "Deluxe" box form, even if that cheese sauce tastes like plastic. But sometimes powdered or Velveeta cheese just won't cut it. Tonight was one of those nights. After a day of baking…or watching baking in my case, we wanted something that wasn't going to leave our kitchen in shambles (as many of my dishes do), but didn't want to settle for the previously mentioned forms of "pasta". We thumbed through a few recipes and chose one from America's Test Kitchen (although with a touch more cayenne and garlic..more than a touch more of the latter and Parmesan in the bread crumb topping).

mmm…cheese…
And because of Dana's love of individual servings…ramekins! The recipe called for 25-30 minutes in the oven. For ramekins we cut it down to 15 and it worked perfectly.

To make the moms happy, I made Dana eat some green beans. She didn't whine too much, but did insist we spice them up with some red chili flake, which added another layer of flavor to our standard stir fry in garlic method of cooking vegetables.

My plate, cause a ramekin's worth just wouldn't cut it.