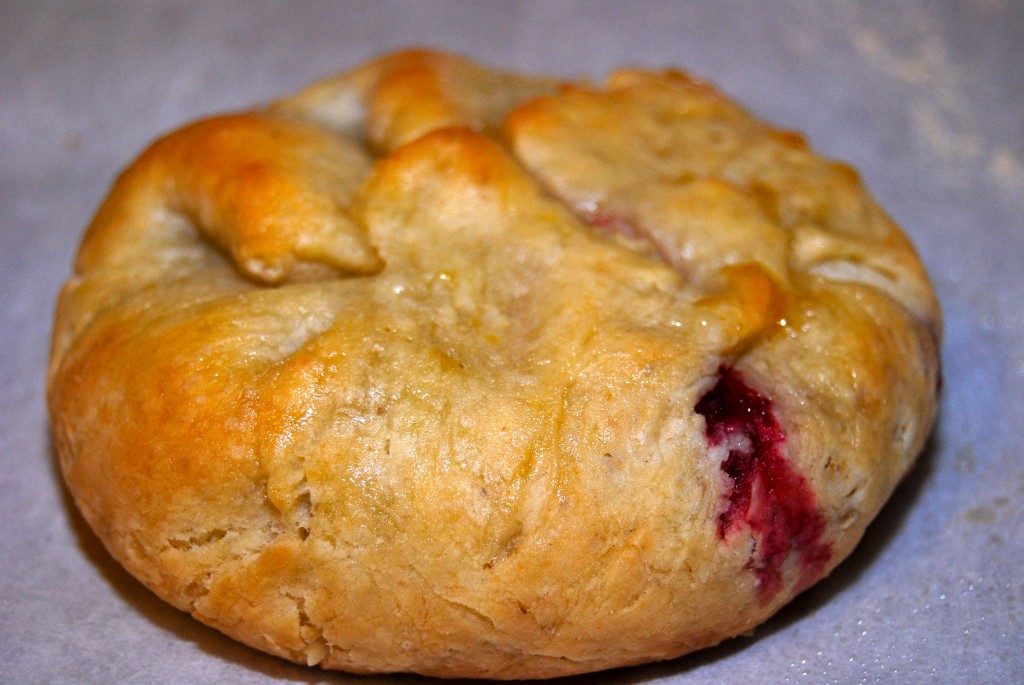 Anyone who knows us from Ithaca or has visited us in Ithaca can tell you that I am absolutely in love with dessert at Madeline's, a restaurant here in Ithaca.  Actually, I'm in love with one dessert in particular: Raspberry Galette.  I have ordered it every time we've eaten there, whether for dinner or just dessert… and we've eaten there a lot!  Since we're going to be moving in under a year, I pledged to replicate this dessert before leaving Ithaca (along with a few of Steve's favorites).  This weekend I finally started on my mission.  So here it is – my first attempt at Madeline's Raspberry Galette.
I didn't really bother with replicating their perfect pleating this time around.  Right now I just want to make sure the flavors and texture are right.  When I was rolling out and forming the dough I tried to keep it relatively thick to mimic theirs rather than ending up with a thin and crispy shell which some recipes call for.  I could tell right away the butter chunks were way to thick and were going to result in a flaky pastry… not what I was going for here.
I also used a ramekin to help shape the galettes and fill them – again trying to replicate Madeline's.  Other recipes you'll see call for a more rustic shape and definitely larger than what I have made here.  Here are my two galettes before going in the oven…
And here they are after coming out.  Nice and golden brown… and a little oozy…
And the finished galettes all ready to be devoured… Two scoops of ice cream and a drizzle of raspberry puree.  Next time I think I'll also drizzle with a little sweetened condensed milk.  

 They look good, but will they pass the test?….
The verdict?  The dough was… I can't believe I'm saying this… too flaky and tender in comparison to the original.  Also, because of all the butter, the bottoms browned a little more than I would like.  However, the filling was definitely close to the original.  We weren't going to let a few imperfections stop us though – we gobbled them up in no time!
Delicious!  But not quite the same…  Don't despair!  I won't let one little failure discourage me.  I think I'll make the dough a little denser and less flaky on my next attempt.  Besides, the more attempts the more times I get to eat delicious raspberry galette

Raspberry Galette (attempt 1)
Dough:
3 tbsp sour cream
1/3 cup ice water
1 cup all purpose flour
1/4 cup cornmeal
1 tsp sugar
1/2 tsp salt
7 Tbsp unsalted butter; cold and cut into 7 pieces
Filling:
I made the dough in a food processor.  Put flour, cornmeal, sugar, and salt in the food processor and processor briefly to mix.  Next, add the cold butter and pulse until butter chunks resemble little peas.  In a separate bowl, mix the sour cream and water together.  Then add this mixture into the food processor and mix until moist curds form.  Gather the dough into two discs, wrap with plastic wrap and chill for at least two hours.
After chilling, preheat oven to 400 degrees and line a baking sheet with parchment paper.  Roll out dough on lightly floured surface to about 1/4 inch thick (most recipes call for 1/8 thick resulting in a crispier crust).  Gently push the galette into a ramekin (making sure it doesn't stick to the sides).  Fill with raspberries and a sprinkle of sugar.  Begin folding the edges over the filling, pleating the top all the way around.  Turn over the ramekin and gently remove the galette and place on the parchment-lined baking sheet.  Form and fill a second galette.  Bake the galettes for 35-40 minutes until golden brown.  Cool for 30 minutes before serving.