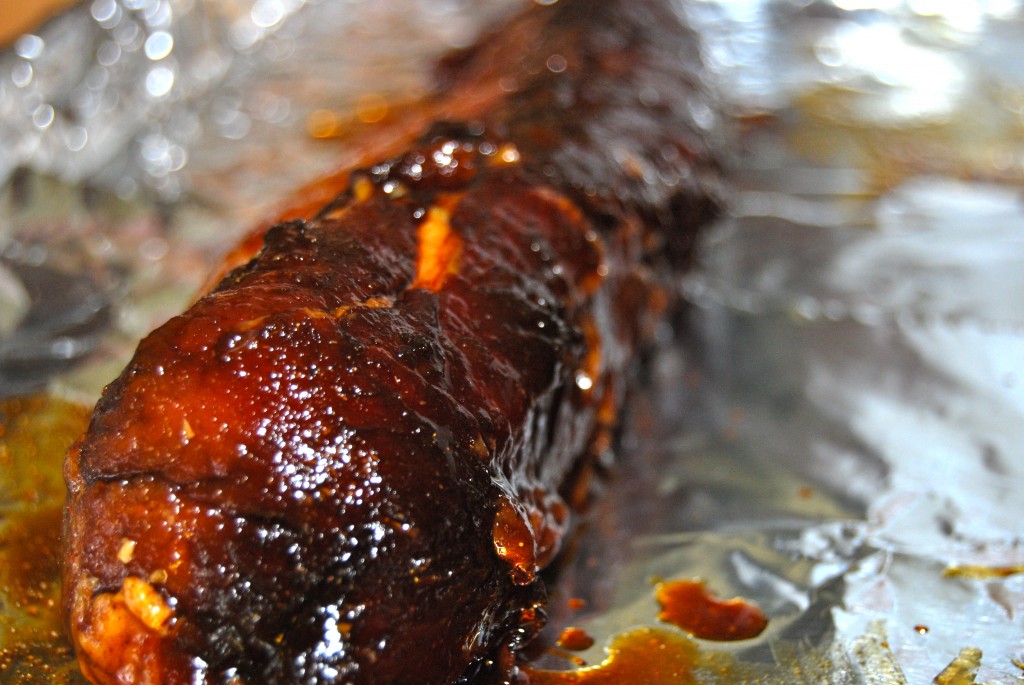 So…..living here in Ithaca has taught me to appreciate good ethnic food.  We've got multiple great Thai spots, who'd expect that, a couple decent Japanese restaurants, one decent Chinese place, no Pho (we'll cover this in a later post I'm sure) and zero Mexican (sadly when we feel like Mexican, Moe's, think Chipotle, is the best we got).  Because there are so few options the waitstaff/owners of the few spots we hit up all recognize us.  Back in my unemployed days the lady at Chinese would say high to me at the grocery store.  At Japanese, the owner remembers that Dana does not eat the cucumbers in her California rolls (we're convinced she thinks Dana is deathly allergic).  And just last week we went to Thai and didn't even have to tell the waitress our order…sad I know.  Anyways…back to this past weekend.  We were craving some good Chinese food and decided to make a nice meal of chow mein, onion cakes and …wait for it….char siu!  That's right, bbq pork.  We'd never made it before and after searching the interwebs for a bit found a recipe that sounded fairly easy and looked great.  So…to the food!
All the Chinese dishes I make start with the same ingredients, known fondly (in our house at least) as 'the marinade'  Garlic, ginger, soy sauce, sugar, wine and corn starch.  Chop, measure, pour and mix.  Add meat, chicken today.
"The Marinade"
While you could just cook the noodles, and toss with the rest of the ingredients, pan frying them is just wayyyyyyyy better.  The fried noodles just give an extra dimension to both the flavor and texture of the dish. You can also bake the noodles to get the same effect.  I've never had too much success with that method and, in reality, fried>baked.  If you can find fresh noodles, and I'm guessing you can if I was able to out here, definitely go with that.  Ours come vacuum packed and are usually good for a month or so after we buy them.  They're great with spaghetti, and I'm sure other Italian pasta sauces, so having a package or two of these on hand at all times is a great idea.
Fried noodles make for a great snack while cooking.
Fry up the meat, remove from the wok and then chow (fry) the veggis.  This time I used bok choy, red bell pepper and green onions.  Normally I'd use nappa (one of the few vegetables a certain Dana likes) rather than bok choy and occasionally broccoli, but the nappa at the store hasn't looked good for the past week or so and there's no broccoli in our fridge right now.  The one veggie that I forgot about was shiitake mushrooms.  I use dehydrated ones.  Reconstitute and later use the liquid.  Once the veggies have cooked for a bit, toss in some oyster sauce and a spash of stock.
Sizzlin'
In a few batches, mix in the pan fried noodles until they start to become soft again from the liquid in the wok.  I like my noodles to be moist, but not too much sauce so hopefully by the time all of the noodles are mixed into the wok, most of the liquid has been absorbed.
Garnish with with chopped green onions and you're good to go.
Now to the pork.  Up until now, I felt that char siu, like roast duck, was a dish not worth attempting at home.  When I think of both the pork and duck, I don't even contemplate how they're actually cooked.  All I can envision are hanging ducks and pork strips in the window of some sketchy looking Chinese spot.  In NYC we hit up the same Chinese restaurant every time.  We normally come home with at least a couple pounds of pork.  These few pounds would have to hold us over until our next trip into the city.  Not anymore.  Dana found a fairly simple recipe for char siu that came out pretty good.  While not quite up to restaurant standard, it was good and easy enough to attempt again, with slight alterations.  Start by marinating the pork overnight in the following:
5 T hoisin
1 Cup sugar
5-6 T soy sauce
3-4 T Chinese cooking wine
1 T sea salt
1 T 5 spice powder
The directions called for a 4-5 lb piece of meat and to cook it at 375 on a foil lined baking sheet for 30 minutes, flip and cook for another 30 minutes.  The final step is to broil the meat to get some nice caramelization. We had two 1 lb so after the first 30 minutes the pork was almost done so I flipped and put it in for another 10 minutes and then broiled for another two or three.  For a first attempt, I'd say it came out pretty successfully.  The pork was beautifully colored and textured and was moist throughout.  The only fault was we both felt there was a bit to much 5 spice influence on the taste.  I had noticed that the sugar seemed to settle a bit in the marinade so my guess is that a few agitations would have sweetened up the meat a bit more and cut the 5 spice flavor a bit.
Dana fried up some tasty onion cakes.  They turned out nice and flaky and made for a great snack while I was finishing up the chow mein.  Plus it was a a great side dish to the dinner….green onions…it counts as a vegetable, right???
Just a Sunday night dinner in the Martwestinbergdale household.