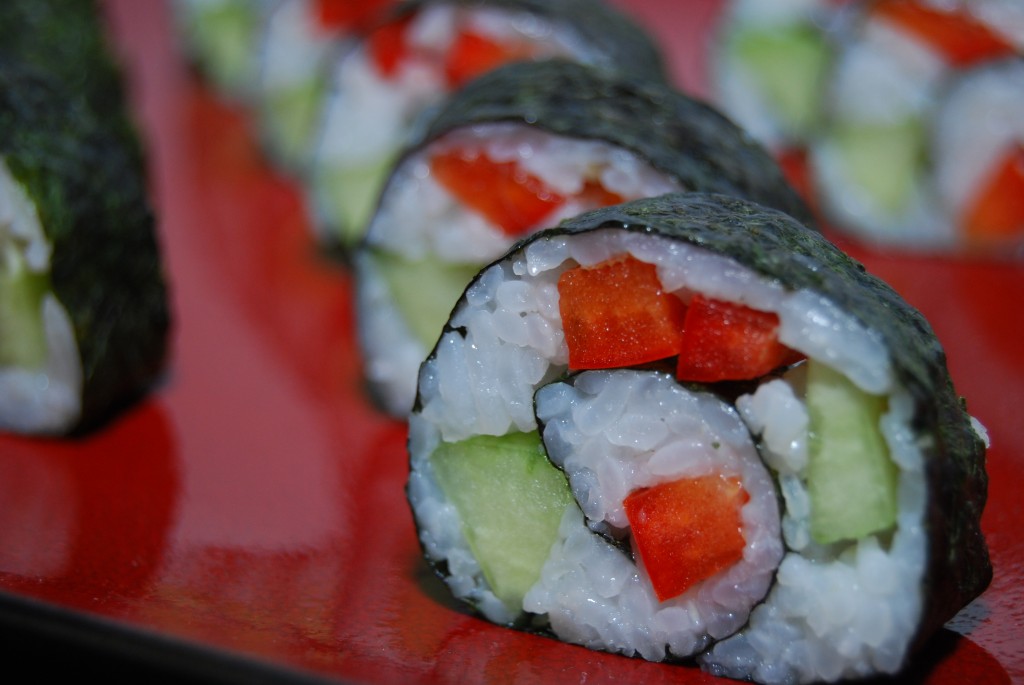 Presenting our first Daring Cooks Challenge!  Sushi!  The November 2009 Daring Cooks challenge was brought to you by Audax of Audax Artifex and Rose of The Bite Me Kitchen. They chose sushi as the challenge.
Dana had somewhat of an advantage here, as she's actually made sushi before.  Being Japanese…or half..rolling things cutely is also in her nature.  Luckily, that also meant we didn't have to buy any new kitchen tools like sushi mats… or a sushi knife… or Japanese rice… or nori… or sashimi soy sauce… or soy sauce dishes… or wasabi… or rice vinegar!  Wait, why did we go to the store, oh yeah, fish, which was the first challenge we faced.  Finding fish we were comfortable eating raw was an issue.  If we were a wee bit closer to an ocean, or at least a major metro center we'd be a bit less skeptical, but much as everyone out here raves about Wegman's (our grocery store for those not in upstate NY), we just can't get over the fact that we can't be getting the freshest fare.  After perusing the fish counter for a few minutes we decided on some fresh tuna (maguro is my personal favorite) and picked up a package of frozen salmon fillets, which we cooked that night, but ended up not using.  We seared the tuna, as it was clearly not sushi grade.  The final menu for the night consisted of red bell pepper and cucumber spiral rolls, tuna and teriyaki chicken nigiri and California Roll-esque Dragon Roll.
Our ingredients, sans fish and chicken.  Look at that avocado slicing skill.
Dana's family's teriyaki chicken.  Best. Teriyaki. Ever.
Mini-spiral roll.  Dana doesn't like cucumbers…or bell peppers, so these babies were all mine.  She did roll them though
Sad "Dragon Roll."  I realized, after starting this challenge that I am not a fan of Dragon Rolls.  If I'm going to have avocado in my sushi, I actually want it IN my sushi.
Yummy nigiri.  The tuna actually turned out great.  If you've been paying attention, I mentioned that we seared the tuna.  After doing so, we realized seared tuna wasn't as appetizing as a nice raw piece so we trimmed the edges.  I think it turned out pretty nice.  As for the chicken, doesn't it look like unagi?  We actually bought a tin of eel…but after opening it we got a little scared.  It ended up not being unagi and it was VERY bony.  The chicken substitute was awesome!