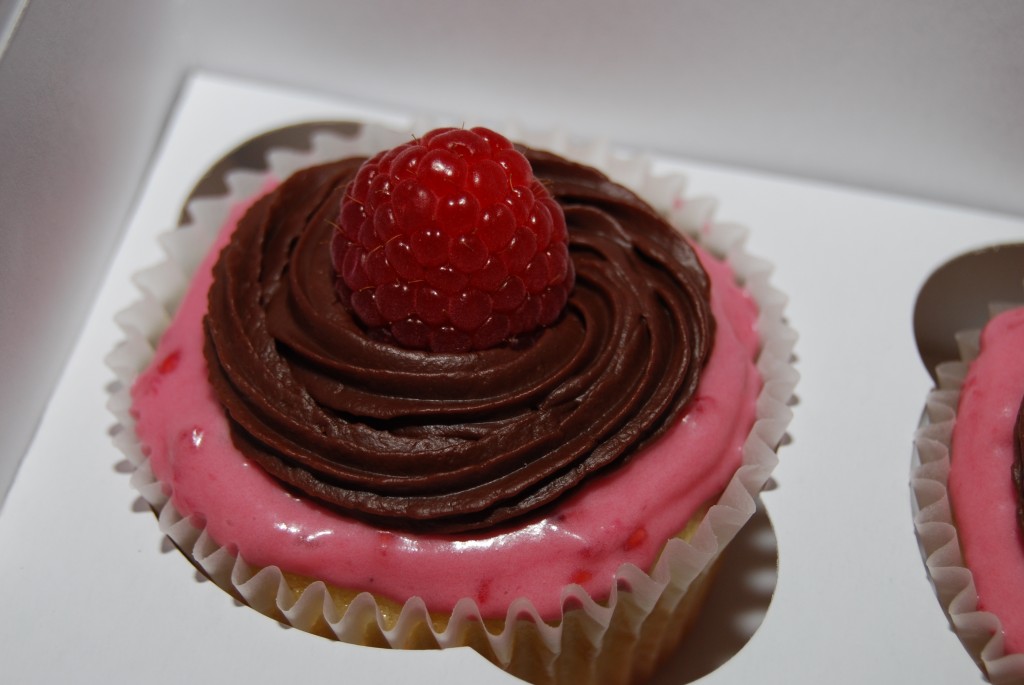 Yup, raspberry almond cupcakes again.  What can I say?  I just can't help myself.  But this time, I threw in something extra – amaretto ganache.
And because I just couldn't decide which frosting I liked better: raspberry cream cheese or the amaretto ganache…. how about both!  A little tart creaminess from the raspberry frosting with the rich chocolate ganache – lovely.  Steve gave me a hard time that maybe it would just be too much.  But he wasn't complaining when he gobbled them up!  And I just couldn't resist topping them with a beautiful raspberry.  They are a little busier then my usual cupcake decorations, but they tasted good.
I rescued Steve from eating them all by boxing up eight of the cupcakes to bring to a meeting.  Transporting cupcakes can be such a hassle.  They just want to slide around in there or god forbid flip upside down.  There are carrier trays, but that doesn't solve the problem when you are giving the cupcakes away.  I can't buy a carrier tray every time I'm giving someone cupcakes.  What I need to do is invest in bulk cupcake and mini-cupcake boxes.  They would make sharing treats so much easier – plus they are just so cute!  I just want to assemble them, fill them with cupcakes and tie a ribbon around them for good measure.  Yes, it may be a little sad that I get so excited about bakery boxes.  But I just love packaging solutions in general (this goes way beyond just baking).  So don't even get me started on other transport ideas!  I love them all.  Like Cup-a-cakes, which I've only resisted buying because I can't even think of a time I've needed to transport only one cupcake.
Amaretto Ganache
1 pound (16 ounces) high-quality semi-sweet chocolate, finely chopped
1-1/2 cups heavy cream
6 Tbsp amaretto almond liqueur
In saucepan, bring heavy cream to a boil and immediately remove from heat.  Add chopped chocolate to cream and stir until ganache is smooth.  Stir in the amaretto.  Allow the ganache to cool on the counter until it sets up and can be piped smoothly.  You want it to be able to hold its shape but not be too hard to pipe out.