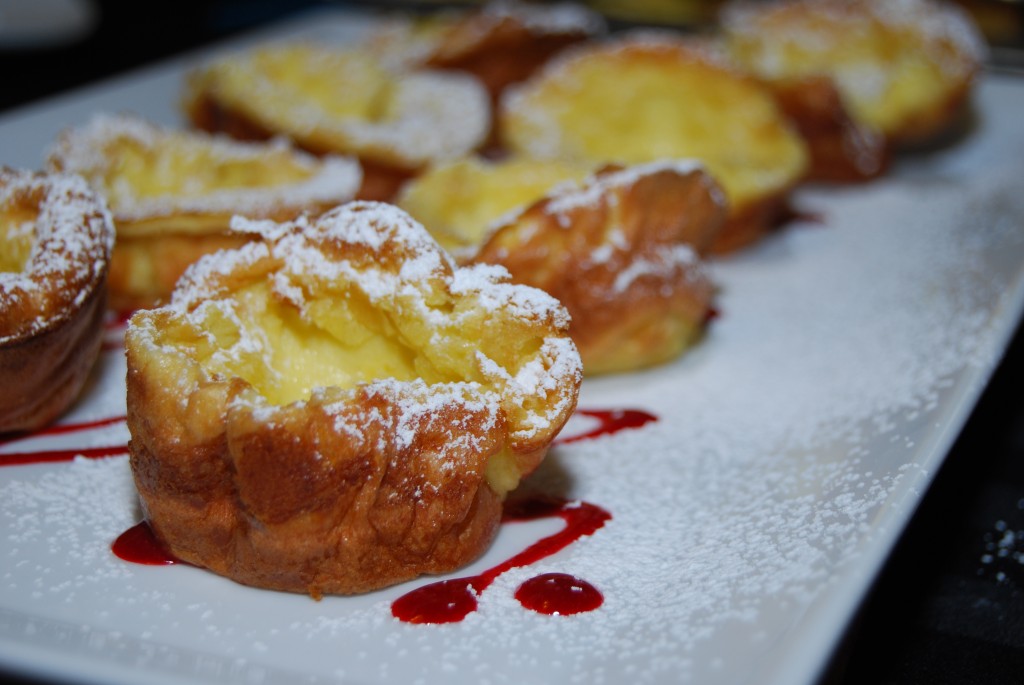 My family has been going to the Original Pancake House since I was small.  For those of you who know the chain, one of their specialities is the Dutch Baby pancake.  While I would often stick to a bowl of strawberries with whipped cream or swedish pancakes (or both!), one or both of my parents would get the Dutch Baby.  The most exciting part of the meal was when that giant bowl of a pancake would arrive at the table.  I would always steal a few bites with that lemony-sugar goodness.  Now that I think about it, I guess my earlier comments on citrus were not entirely true, because I do enjoy these with fresh lemon juice and powdered sugar.
So, when I saw a recipe here for mini dutch babies, or what I have been fondly calling dutch baby babies, I knew they would be breakfast that weekend.  Everything is better in mini size in my book!  Plus, they were incredibly easy to make and baked up quickly in simple muffin tins.
…a few of them puffed up lop-sided.  The most likely culprit was my insufficient greasing of some of the cups.  Those unfortunate few stuck on one side and puffed on the other.  Not that it mattered much – they became breakfast all of two minutes later!  They do look like cute little clams though.
And after just a few seconds, the dutch baby babies start to deflate.  This would be a fun recipe to do with kids – since the pancakes puff up so much and then you get to watch them deflate when they come out of the oven.  At least I thought it was exciting!
Plating in action… Raspberry puree!  Who's going to turn that down?  Certainly not me.
And the final product.  The dutch baby babies just pop right out of the pan.  I used a knife to slide them out or clean around the sides on the ones i didn't grease enough.  We ate them with lemon juice and powdered sugar.  No extra butter was needed.  They were so yummy we made them two mornings in a row!
Dutch Baby Babies (a.k.a. mini german pancakes)
1 cup milk (we used lactose free)
6 eggs
1 cup flour
1/2 tsp salt
1 tsp vanilla
1/4 cup butter, melted
Preheat oven to 400 degrees.  Thoroughly grease muffins tins (approx. 18).  Mix together milk, eggs, flour, salt, and vanilla until well blended and all flour chunks are mixed in.  Try to do this quickly.  Slowly mix in the melted butter.  Distribute the batter evenly among approximately 18 cups – about 1/4 cup in each.  Bake for 15 minutes or until puffy and golden.  Serve with lemon juice and powdered sugar – or other toppings of your choice.