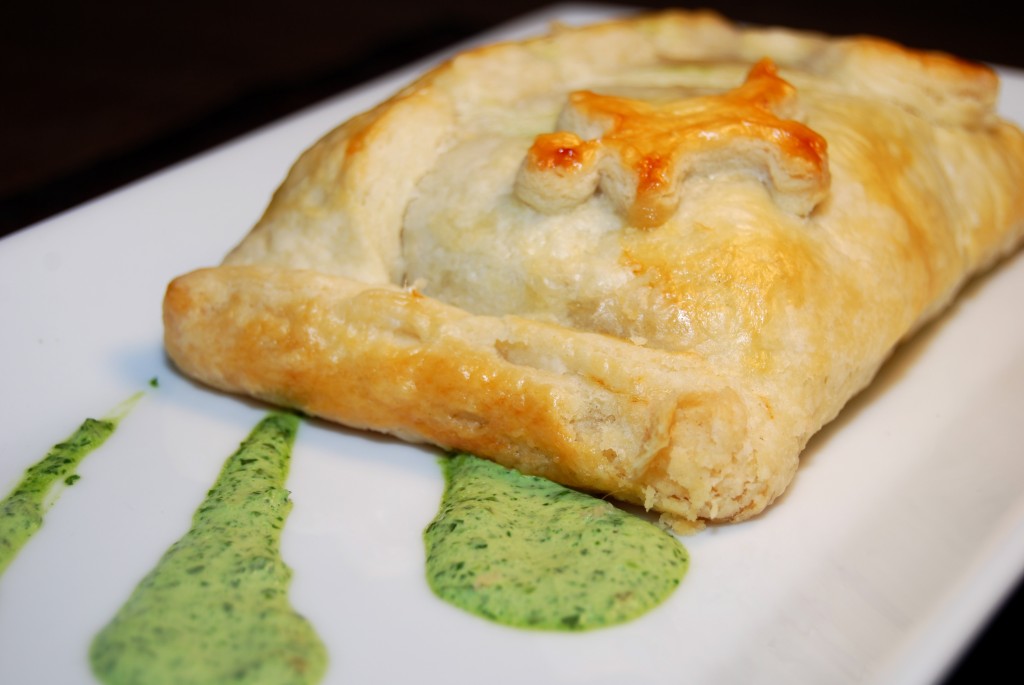 How is it that French cuisine can get away with just describing the cooking method, yet make it sound so appetizing.  Coq au Vin, Rognons de Veau Flambes and Creme Brulee all sound appetizing and exotic.  Imagine a menu with entrees such as "Cock with Wine" or "Flamed Veal Kidneys" or a dessert menu whose star is "Burnt Cream."  Cock with wine??? Um…I'll pass.  This month's Daring Cooks challenge is no different.  Are you going to order Salmon in Crust… I'm guessing no.  But, Salmon en Croute?  Yes please, or Oui s'il vous plait (or however you actually say it in French).
The 2009 Daring Cooks challenge was hosted by Simone of Junglefrog Cooking. Simone chose Salmon en Croute (or alternative recipes for Beef Wellington or Vegetable en Croute) from Good Food Online.
There were two main components to this dish.  The filling, which was a puree of arugula, watercress, spinach and cream cheese (note to self:  read entire recipe before shopping for ingredients, the recipe called for cream cheese or marscarpone.  We would have opted for the latter).  The second piece was the crust.  We could have used store bought puff pastry, which we do have in the freezer and was our back up, but opted to take a crack at a short crust.  The recipe is similar to the crust of a pear tart so we figured it shouldn't be too difficult.  After forming the dough we were a little worried that it was too moist and we'd end up with cardboard.  So we made a second batch.  We ended up using the the first batch and it came out quite good.  Paired with a side of spinach stir fried in garlic and soy sauce (gotta Asian up the meal), this was a great Sunday dinner, one we'll be making again in the future and not only because we have a second batch of dough in the fridge!
Its a gingerbr…er…croute man!
I think every time we eat salmon Dana just dreams of the day we make it back to the west coast (seven months to go!).  Especially since we just learned "Atlantic Fresh" = Farm raised, which is safe to eat once every two months.