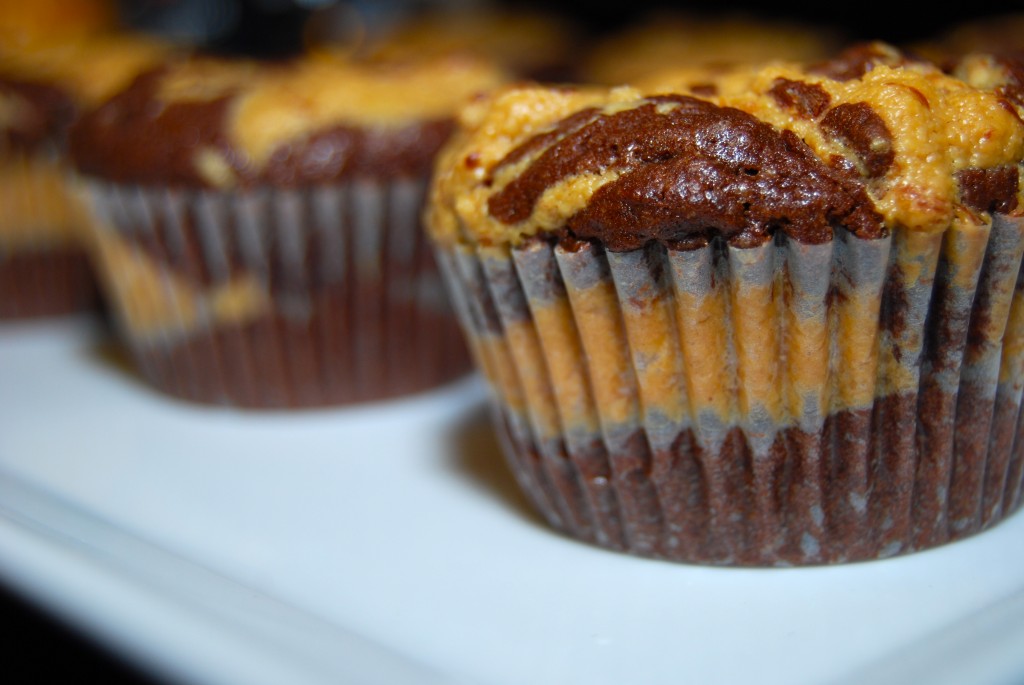 We're back.  I know its been a long time.  Sorry to those few who actually check for new posts (this surprisingly does not include my mother).  I realized with law school finals, finishing up Christmas shopping before leaving for the Northwest (at least for my gifts – Steve finished on the 23rd), and prepping the house and puppy for being away for 2 weeks – we simply weren't going to have enough time to cook let alone post about cooking.  In fact, we had planned on participating in the December Daring Bakers gingerbread house challenge, but scrapped it at 8pm the night before our flight AFTER baking all the gingerbread pieces necessary to make one.  We're silly like that.
Anyway, after all this time I hate to write about a recipe that I didn't just love… but too bad, I've been putting off writing about these for a while.  I tried these chocolate peanut butter cupcakes from Martha Stewart's Cupcake book before Thanksgiving.  (I told you it had been a while.)  I'd say that chocolate and peanut butter just aren't my thing, but that'd be a lie.  The chocolate peanut butter combo is okay in my book – in fact, I LOVE Reese's.  There was even a time when my grandma would buy cases of them at Costco for me.  Sad, I know.  I'm glad to announce I've come a long way… but not that far since I still have dish full of them on the kitchen counter right now.  Needless to say, when I saw this recipe – chocolate and peanut butter in a cupcake – I was sold.
But, the end product left something to be desired.  They seemed a little dry to me – too crumbly for my liking.  Of course, this could always be baker error and not a problem with the recipe.  I can say too that they were incredibly rich – have a glass of milk on hand!  All that peanut butter will do that.  In the end, as much as I wanted to like these, I don't think they'll be making it to my regular rotations of sweets.
Peanut Butter-Filled Chocolate Cupcakes
Adapted from Martha Stewart Cupcakes
Makes 12.
Peanut butter filling ingredients:
1/2 stick unsalted butter, melted
1/2 cup confectioner's sugar, sifted
3/4 cup smooth peanut butter
1/4 tsp salt
1/2 tsp vanilla
Cupcake batter ingredients:
2/3 cup all purpose flour
1/2 tsp baking powder
1/4 tsp salt
1 stick unsalted butter, cut into pieces
4 ounces semisweet chocolate, chopped
2 ounces unsweetened chocolate, chopped
3/4 cup granulated sugar
3 large eggs
2 tsp vanilla
Preheat oven to 350 degrees.  Line a standard muffing tin with paper liners.
Stir ingredients for peanut butter filling together until smooth and set aside.  (Note:  We might have eaten some on toast… it was yummy)
Next onto the batter.  Whisk together flour, baking powder, and salt. Melt chocolate and butter together in a heatproof bowl over simmering water (do not get any water into the chocolate!).  Stir until melted, then remove from heat.  Once it has cooled slightly, whisk granulated sugar into the mixture.  Add eggs and whisk until smooth.  Add vanilla, then flour mixture.  Stir until well incorporated.
Spoon 2 Tbsp batter into each liner, then 2 Tbsp of the PB filling.  Follow with another Tbsp of batter and 1 tsp filling.  Swirl the top with a toothpick.  Bake for about 40 minutes, rotating half way through.  Cool completely in the tin before removing cupcakes.