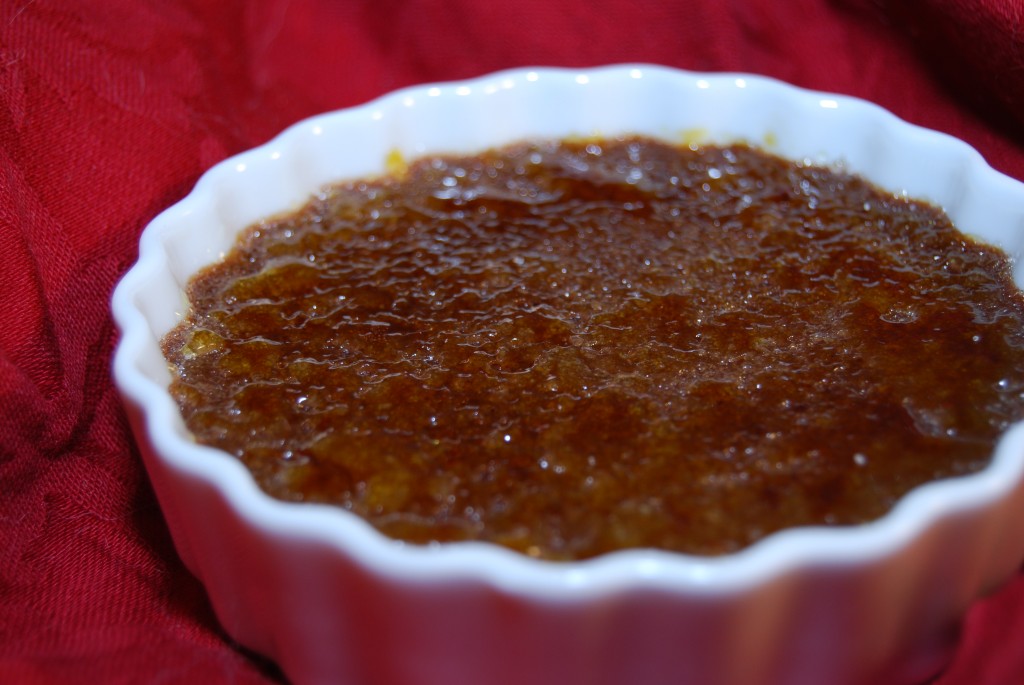 For Christmas this year, Steve and I gave his mother (my future mother-in-law) a cookbook we made of some of our favorite recipes.  Some old, some new, but all things we think are delicious.  She follows this blog so we tried to post about as few of them as possible before the holidays.  We wanted at least a few recipes to be a surprise!  But the holidays are over and she opened her gift, so there is no need to wait any longer.  It's finally time to start posting about these recipes!
First up, chocolate creme brulee.  This, of course, is another dish that is served at our favorite dessert spot in town.  Steve and I remembered his mother loving this dish when we came to visit, so we set out to find a recipe to include in our cookbook.  I don't know if our version is quite as delicious as the one from the restaurant.  Clearly, I've never tried their chocolate creme brulee… as implied by earlier posts.  But I thought ours turned out delicious enough to pass on the recipe!
I decided to add a touch of coffee liquor to enhance the chocolate flavor, at risk of softening the custard a little.  And it turned out fine, so I guess it was worth the risk.  Creamy and chocolaty, just like it should be.  With crunch from the burnt sugar top.
Steve had the honors with the blow torch.  Sometimes I do stupid things with extremely hot things.  Like melting our rug with a heat embosser.  Needless to say, it was probably best if I didn't handle the little gun of fire.  So I let the man of the house handle the fire (never mind the cannoli form-related display of un-handiness).  We all survived.  And the chocolate creme brulee was torched – success!
Chocolate Creme Brulee
Adapted from Francois Payard's Chocolate Epiphany
6 ounces 72% high quality chocolate, chopped
2/3 cup sugar
8 large egg yolks
2 Tbsp Kahlua coffee liqueur
3 cups plus 2 Tbsp heavy cream
Extra sugar for topping
Preheat oven to 300 degrees.
Combine sugar and eggs yolks in a medium bowl.  Whisk until combined.  Set aside.  Bring cream to a boil in a medium saucepan over medium high heat.  Stir in the chopped chocolate until completely melted and mixture is smooth.  Stir in the Kahlua liqueur.  While whisking constantly, slowly pour 1/4 of the chocolate cream into the egg mixture.  Then pour all of the egg mixture into the chocolate cream and whisk until everything is combined.  Strain the custard through a fine mesh sieve.
Pour the custard into eight 6-ounce ramekins.  Place ramekins in a rimmed baking sheet and place in oven.  Pour about 1/4 inch of hot water into the bottom of the pan.  Bake for about 1 hour, until the custard is just set.  Remove and cool to room temperature.  Then refrigerate the ramekins until the custard at least 3 hours or up to 2 days.
To finish, sprinkle an even layer of sugar on the top of each ramekin.  Caramelize the sugar with a blow torch. You can also do this in an oven broiler, but we didn't try this method.