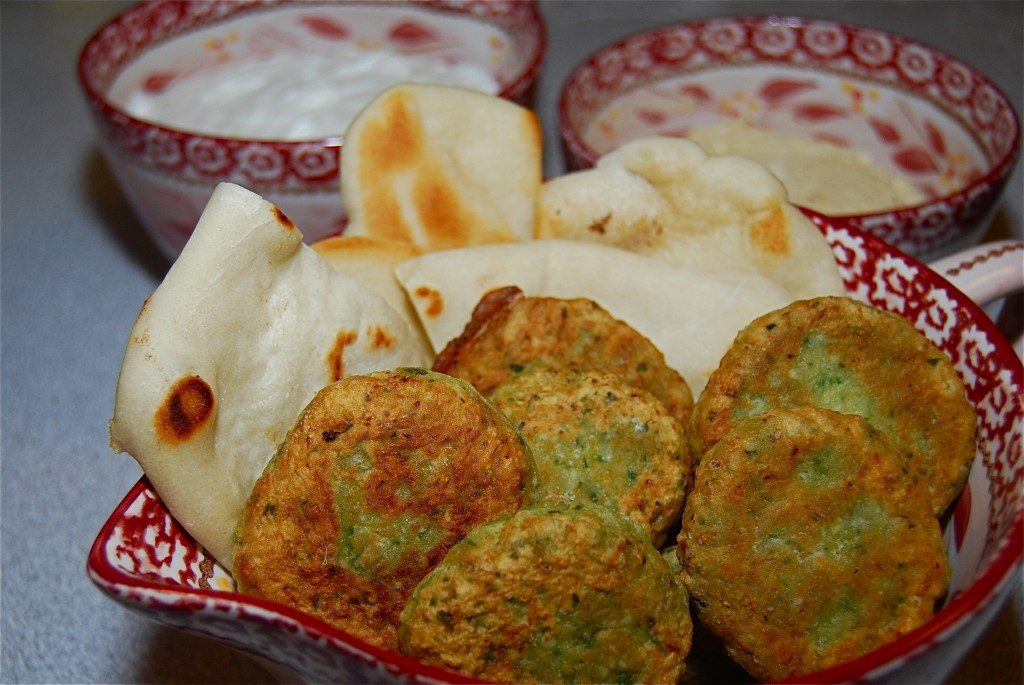 I can't say I had heard the term Mezze prior to this challenge, but I have always loved all the food that make up a great mezze.  The 2010 February Daring COOKs challenge was hosted by Michele of Veggie Num Nums. Michele chose to challenge everyone to make mezze based on various recipes from Claudia Roden, Jeffrey Alford and Naomi Dugid.
We were super excited for this challenge.  Pita and hummus are always a favorite snack for us, but we'd never thought of making it ourselves.  Our big plan for this spring is to master, or at least attempt to master, the art of baking bread, so this was a perfect chance for a first attempt.  We both took turns kneading the dough, which I think turned out to be pretty successful, although it did show me that I need major practice rolling dough into neat circles.  As you'll see below, some of mine were a little oblong.  Despite my lack of rolling skills, the pitas turned out quite nice.  They puffed up in the oven and were a little crisp on the outside and nice and chewy in the middle.
While we were waiting for the dough to chill we prepped the hummus.  If I had realized that making hummus was this simple we would have been making it for years.  As we've mentioned in previous posts, we love garlic.  We figure this was a great opportunity to try roasting our own for the first time.  Like the hummus, I hadn't realized just how easy roasting garlic was.  We cut open a few bulbs, drizzled some olive oil over the top, wrapped them in foil and popped them in the oven.  About 40 minutes later we had the heavenly spread known as roasted garlic.  Into the the food processor went the chick peas, roasted garlic, tahini, lemon juice, olive oil and salt.  The result?  Lets just say we won't be eating store bought hummus anytime soon.
For our falafel, we had a little debate.  After the cannoli daring bakers challenge, we realized that we don't particularly like deep frying.  Don't get me wrong, we love fried food, its just the actual deep frying that we don't enjoy.  Especially cooking for two, it just seemed wasteful to fill a pot with oil.  Also the fact that we only had under a quart of canola oil at the time made deep frying impossible.  One option was to follow a baking recipe, but in general fried > baked, so we quickly nixed that idea.  We thought about it for a minute before realizing that shallow frying thinner falafel patties, or falafel nuggets as Dana is calling them, would give us the taste and texture of traditional falafel, without the waste of deep frying.  After frying up about a dozen little nuggets we whipped up some tsatsiki sauce and had ourselves a mini feast.
No daylight (4:30 pm) = flash = sad photos = sad us