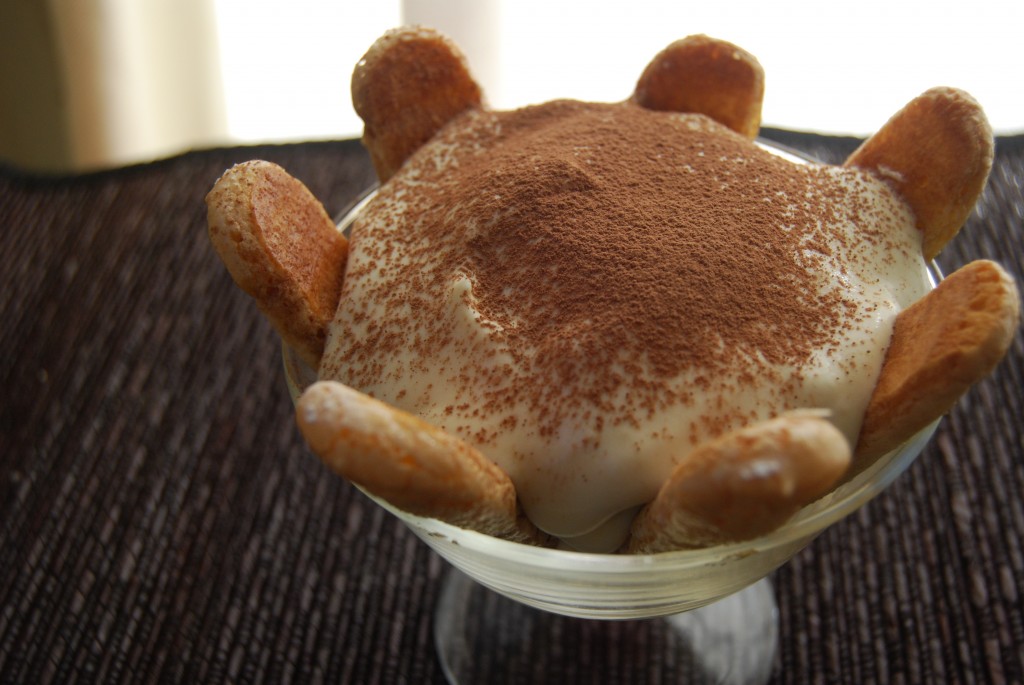 Another Daring Bakers challenge!  Let's get the obligatory blog-checking lines out of the way first:  The February 2010 Daring Bakers' challenge was hosted by Aparna of My Diverse Kitchen and Deeba of Passionate About Baking. They chose Tiramisu as the challenge for the month. Their challenge recipe is based on recipes from The Washington Post, Cordon Bleu at Home and Baking Obsession.
Now that that's out of the way, we can move on to the fun stuff – pictures!
But I'm getting ahead of myself…. This month's challenge was tiramisu (if you didn't notice the blog title or the blog-checking lines).  But the challenge wasn't just making a tiramisu – it was also making homemade marscapone and homemade ladyfingers.  Let's just say one was more of a success than the other.
First, the marscapone.  Who knew the only two ingredients were whipping cream and lemon juice?  So simple… or not.  Clearly we did something wrong, because while the directions said our cream would come up to temperature in 15 minutes… we were still waiting after 50.  Maybe it was our bowl or our stirring – we don't know.  But whatever the reason, our cream just did NOT heat up like the recipe said it would.  Even though it looked like we had lost a lot of volume from evaporation we decided to give it a try and finished up the recipe anyway.  The cheese did set up fine – but I think it was a little thicker/firmer due to our decrease in water content.  But it tasted good enough that we decided we wouldn't make another batch.
Second, the lady fingers.  I'll be honest – I always get nervous beating egg whites/making meringues.  I don't know why.  Maybe not enough practice.  Maybe the fact that my stand mixer always seems to take so much longer than I expect and often has unbeaten whites sloshing around on the bottom.  Maybe the fact that I don't have a hand mixer which I'm convinced would make this much easier (and more space efficient – is it really worth dirtying my single stand mixer bowl for a couple of egg whites?!?).  Bottom line – beating eggs whites gives me butterflies.  Even though I've never had a problem in the past, I'm always convinced something will go wrong this time.  And just my luck, the lady finger batter involved beating eggs whites to stiff peaks.  Then folding. And oh yeah, the batter is very "delicate."  I kept thinking that all this sounded like a recipe for Dana making flat, hard, pancake cookies.  Lady fingers?  Maybe if you squint real hard and pretend they don't look like they've been run over by a steamroller.  Not a pretty image.
But they turned out fine!  Light and airy and delicious!  Phew.
Finally, assembly.  Okay, well first we made the zabaglione, pastry cream, and whipped cream, but I have no pictures for that.  But luckily they all came together with no problems.  The first step was mixing the zabaglione, pastry cream and marscapone.  Then folding in the whipping cream.  I'm beginning to think "tiramisu" really means "mastering the art of folding."  Which is convenient because I wasn't even sure I was using correct folding technique…  But I'm more confident now.  Thank goodness for Daring Bakers!
The cream mixture had wonderful flavor.  The hint of lemon supplied by the zest really made the difference in my opinion.  We've made tiramisu a couple of times but this cream was definitely the tastiest we've had.  It was so good Steve (who is lactose intolerant) risked eating some without taking a lactaid pill.  He just couldn't resist eating what was left in the bowl.
For the coffee part, we added cognac and Grand Marnier instead of rum extract.  Actually I added the cognac and Steve snuck over with the Grand Marnier bottle and poured some in.  I'm not complaining, I just thought the image of Steve sneaking around our kitchen with Grand Marnier bottle in hand is pretty comical.
Then you just dip, arrange, spread, repeat. Done!  The final product was fantastic.  We will definitely be making it again!