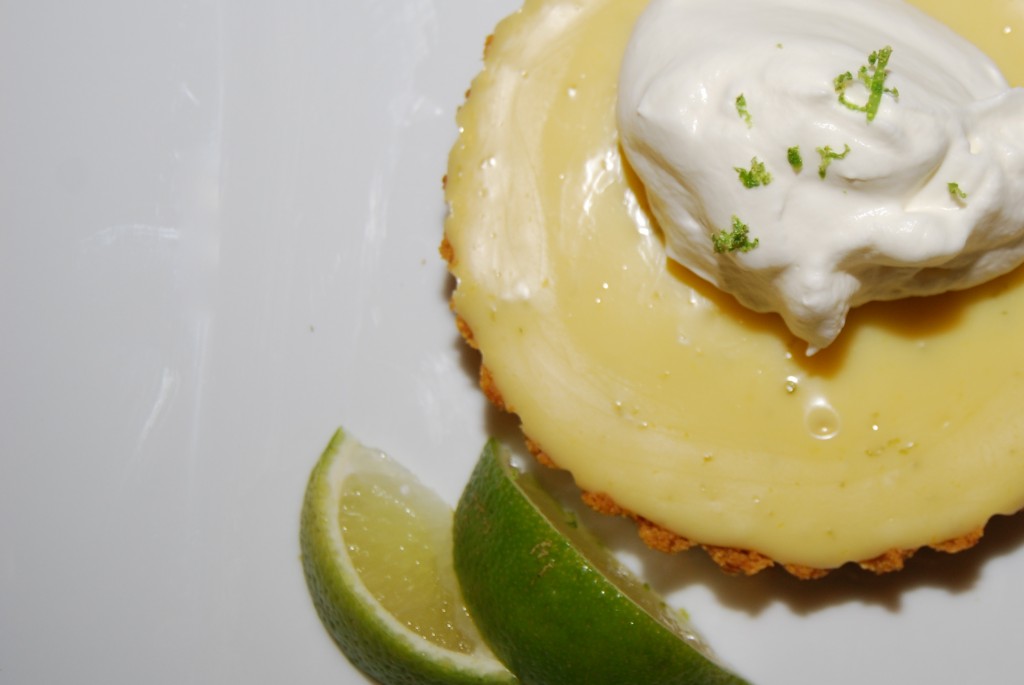 Simple, simple, simple.  Seriously… who knew key lime pie was so easy?  I have to admit, its still not my favorite dessert.  But when its this easy, I really have no excuse for not whipping one up when we have people over who like this classic dessert.  The hardest part is juicing the limes.  But that's what boyfriends/fiancés/any man that happens to be around is for.
I made the pies in tartlet pans (which I have to admit make for a big serving for one person).  Then I serve with whipped cream instead of meringue.  I've already gone over my hesitation with beating egg whites… I know I'll have to get over this eventually, but for now I've only made this pie with whipped cream.  Take it or leave it.  But please don't leave it…
And that's all I have to say.  Simple dessert, simple post.
Key Lime Pie
5 Tbsp butter, melted
1-1/2 cup graham cracker crumbs
1 (14 ounce) can sweetened condensed milk
1/2 cup lime juice (key limes if posisble)
2 tsp finely grated lime zest
2 egg yolks
Preheat oven to 350 degrees F.
To make the crust, combine butter and graham cracker crumbs.  Pat down firmly into a 9-inch pie pan or four tartlet pans.  Bake for 5 to 10 minutes.
Meanwhile, make the filling.  In a medium bowl, combine sweetened condensed milk, lime juice, and lime zest.  Mix in the egg yolks.  Pour the filling into the crust (or evenly among the tartlet crusts) when the crust is baked and slightly cooled.
Bake for about 10 minutes or until the filling has completely set.
Serve with sweetened whipped cream.