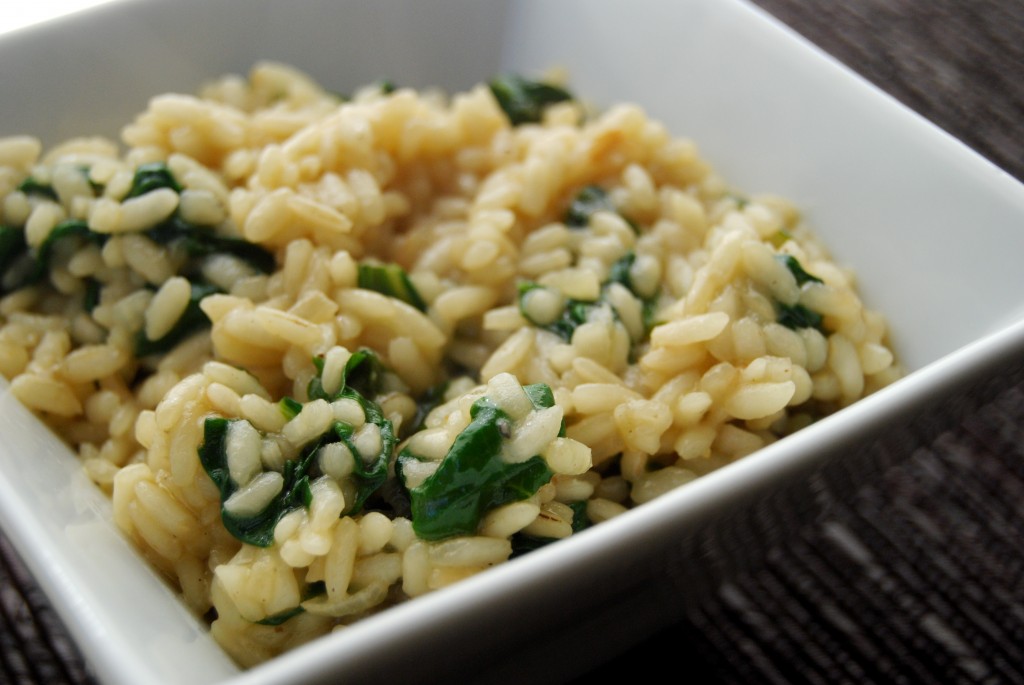 What is it about risotto that oozes decadence?  I'd say we eat rice 4 or 5 nights week…enough for the two of us to go through 20 lbs. bags of rice like it ain't no thang, but risotto isn't your ordinary rice dish.  Maybe it's the richness of the Parmesan Reggiano, porcinis or truffles that are so commonly the star of risotto.  Maybe its the creaminess, the unbelievable result of extracted starches, that make you swear your rice is swimming in a succulent sauce.  Or maybe its the fact that that cooking it involves more than washing rice, covering it with enough water to come up to a knuckle and pushing the button on our cute little Japanese rice cooker.
As you may have guessed, this month's Daring Cooks challenge is risotto.  The 2010 March Daring Cooks challenge was hosted by Eleanor of MelbournefoodGeek and Jess of Jessthebaker. They chose to challenge Daring Cooks to make risotto. The various components of their challenge recipe are based on input from the Australian Masterchef cookbook and the cookbook Moorish by Greg Malouf.
One of the components of this challenge was to make our own chicken stock.  The challenge recommended boiling a whole chicken and then use the meat afterward in soup or some other fashion.  If you've read the clam chowder post, you'll know our feeling, or rather, indifference towards soup.  Since we weren't going to make soup and we didn't want to waste all of that meat, we decided to roast the chicken and just use the carcass and giblets for the stock.  Aside from our obligatory thermometer issues, we seemed to have issues every time we make a roast, which isn't all that often, the roast turned out great.  Back to the challenge!  The stock turned out great and after thinking about it, we realized that even if we wasted all the meat, our homemade stock was more economical than buying it at the store, that is if you don't count 4 hours of your time as a cost.
Once we had the stock, we had to figure out what we were going to put in our risotto.  We've made it with Parmesan and spinach before, so that was a logical safety attempt.  In past attempts, the consistency wasn't always the best, although not bad for a first or second attempt, but it was always tasty.  This time the result was a little different.  The consistency was great, but it was the taste that was biggest surprise.  It was sooooo much better than before.  At first we couldn't figure out why.  All the ingredients were the same except, oh yeah, the stock.  The homemade stock made all the difference.  It was definitely worth the time and effort.
Since our first version was pretty traditional, we wanted to go a little out of the box with our second.  We decided on a an Asian inspired risotto, a pseudo fried rice as it were.  The main deviation from the traditional risotto was added in a teaspoon of soy and a little minced ginger and garlic.  After finishing it with a little lup cheong (Chinese sausage) we had our non-fried, fried risotto.  Surprisingly, it came out creamier than our more traditional attempt.  It tasted good, but was a little rich.  Without the green onion it may have been overpowering.  Even with it, Dana was looking for some white rice to eat with it.  Yes, rice with rice.  She's weird.
For our third, Dana wanted to make a dessert.  Rice, even in risotto, is pretty neutral, which makes it a perfect paring with a myriad of flavors.  We thought about chocolate, but ended up going with cinnamon and nutmeg risotto topped with macerated strawberries and raspberries.  As you might assume, for this one we did not use the stock.  Something about chicken stock and dessert doesn't go together.  Instead, we substituted the wine with cognac and grand mariner and the stock with whole milk.  The end product, while tasty, was the densest out of the three.   When reduced, the whole milk became too thick and by the time the rice was fully cooked it had become paste like.  I think if we make it again we'll have to cut the milk with some water, or at least just use low fat milk.
Overall, it was a pretty successful challenge.  I'm not sure we'll make the pseudo fried rice again (the real thing is just so easy), but the spinach Parmesan risotto was a hit and the homemade stock was so much better than the store bought variety.  Thanks again to Eleanor and Jess for a great challenge!
As always, the recipes can be found at the Daring Kitchen site .  We'll post our alterations a little later.