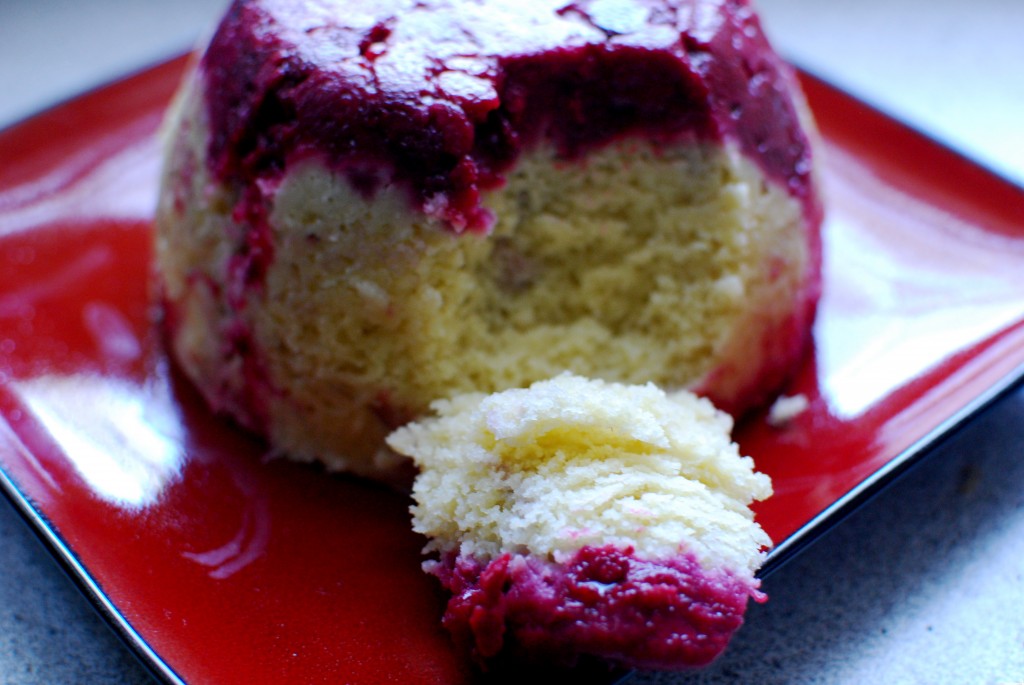 It's that time again – Daring Bakers!  The April 2010 Daring Bakers' challenge was hosted by Esther of The Lilac Kitchen. She challenged everyone to make a traditional British pudding using, if possible, a very traditional British ingredient: suet.  We didn't end up using suet and substituted a butter recipe instead.  We also chose to make a steamed pudding rather than boiled or a suet crust.  Who knew that "pudding" could be applied to so many different dishes?
This ended up being a very last minute challenge for us.  Both Steve and I were visiting friends for two weekends this month and Steve had a business trip thrown in right in the middle.  Luckily the steamed pudding was super easy to make.  Most of the process is waiting for the pudding to steam.  We filled the bottom of our pudding bowl with a mixture of strawberries and raspberries.  Surprise, surprise. Then the batter went on top.
Into the pot of simmering water to steam and out came this!  Amazing.  It sunk a little in the middle… but that's the bottom anyway, so nobody will know when its served.
I ended up making this super late at night so I didn't end up unmolding it until the morning.   I didn't think about it at the time but that could have ended up in a big mess.  But apparently I buttered the dish pretty well and the pudding came out without any trouble.  The berries which had sat overnight and decided to solidify into into one mass (shaped like the mold of course) lost some of their visual appeal however.  The pudding had a delicious flavor and texture – and it was made with only a few simple ingredients.  I will definitely be whipping these up in the future.  Knowing me, my next attempt will probably involve steaming in individual servings.  What a great challenge!
Strawberry-Raspberry Steamed Pudding
1/2 to 2/3 cup strawberries and/or raspberries
2/3 cup + 2 Tbsp sugar
1 tsp lemon juice
1 stick (1/2 cup) butter, softened
1/2 tsp vanilla
2 eggs
1 1/2 cup all-purpose flour
2 1/4 tsp baking powder
1/2 tsp salt
Mix the berries, 2 Tbsp sugar and 1 tsp lemon juice and let sit.  My berries were frozen so I let them sit overnight in the fridge to thaw.  If you wanted to thicken this a bit you could heat it over low heat for a few minutes – but I didn't this time.  Set aside the berry mixture.
In another bowl, cream together butter and remaining 2/3 cup sugar.  Stir in the vanilla extract and then beat in the eggs, one at a time.  Sift the flour, baking powder and salt together.  Then, gently fold the dry ingredients into the wet.
Begin simmering a pan of water big enough to hold the bowl with a lid on with a steaming tray inside.  Grease a 1 quart bowl that will be safe to steam.  Spoon the berry mixture into the bottom of the bowl – at this point there may be a little too much liquid so feel free to leave some out.  On top of the berry mixture gently spoon on the batter, making sure to level off the top.
Butter a piece of parchment paper large enough to cover the top of the bowl.  Place the parchment over the bowl, greased side down.  Next, cover with a piece of parchment and secure with string (or in our case, a rubberband…).  Place the bowl in the pan with the steaming water.  Cover and steam for 1 1/2 hours, making sure the pan does not boil dry.
To serve: remove cover and invert onto a plate.  Then carefully remove the bowl.