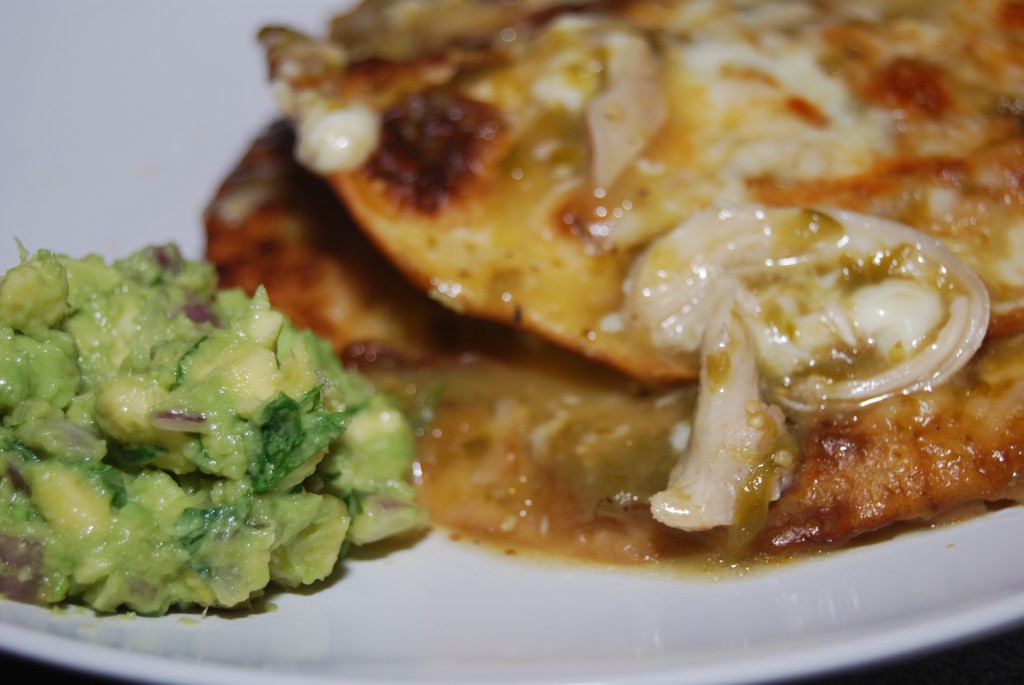 This month's challenge was Stacked Green Enchiladas.  Our hosts this month, Barbara of Barbara Bakes and Bunnee of Anna+Food have chosen a delicious Stacked Green Chile & Grilled Chicken Enchilada recipe in celebration of Cinco de Mayo! The recipe, featuring a homemade enchilada sauce was found on www.finecooking.com and written by Robb Walsh.
So…I'm a little late with this post.  Dana is graduating from law school tomorrow and in preparing to host family forgot all about the challenge.  What's funny is, we actually made the dish 2 weeks ago (which is super early for us).  The challenge itself couldn't have come at a better time.  We're moving down to San Diego in the next month or so and have been absolutely craving Mexican food.  People claim that there is decent Mexican food here…they LIE!  Or more specifically, they don't know what good Mexican really is.
Rewind back a couple of weekends ago.  Dana was pretty involved in an end of the year Business school event that was consuming a ton of her time.  That Saturday she was supposed to be video editing all day at our house with another student.  I thought, what a great time to try out this new recipe.  What I failed to realize was that roasting nearly a dozen chilies over an open flame on an 85 degree day probably wasn't the best idea.  The fact that Dana was making pudding again didn't help any.
The roasted chilies turned out great.  I think if I was going to do this many again, I'd try them on a grill or possibly broil them.  Holding the over the flame was pretty time consuming and did I mention HOT..oh yeah I did already.  I'm not really a fan of tomatillo sauce but this one turned out great.  The chilies gave a fair amount of heat without becoming overpowering. When I finally assembled the enchiladas, the Pyrex casserole dish I chose was quite a bit too wide for one tortilla, but a little too narrow for two.  The end result wasn't the most aesthetically appealing (as you'll see in the photo below), but it was quite tasty.
As always, you can find the recipes at the Daring Kitchen