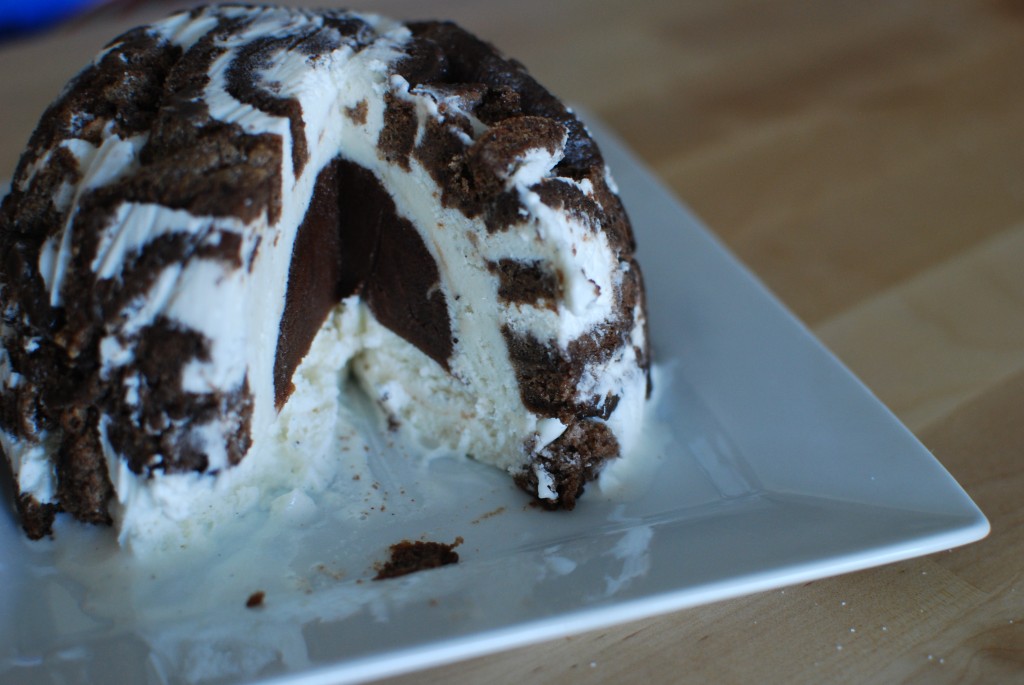 Thank you to Sunita for this month's challenge.  The July 2010 Daring Bakers' challenge was hosted by Sunita of Sunita's world – life and food. Sunita challenged everyone to make an ice-cream filled Swiss roll that's then used to make a bombe with hot fudge. Her recipe is based on an ice cream cake recipe from Taste of Home.
First off, I have to write a disclaimer that Dana has been cramming for, and currently taking, the California Bar so I was in charge of the baking this month.  Since my baking prowess extends to  Nestles Tollhouse cookies and boxed brownies, this was a bit intimidating.
The biggest issue I faced was unrolling the cake.  I even pulled Dana away from the books for a few minutes to help me, but it immediately started to crack and then stick to the towel.  We were able to eventually pry it away from the towel, but not without leaving some stray fibers on the cake….real appetizing, huh (not that it stopped me from snacking on the bits still glued to the towel).  Our semi-intact rolled cake led to some  oddly shaped spirals.
The end product was fairly successful.  I mean it did have the general shape that was intended…and it didn't taste too much like dish towel, but most of all, it got us (or me) back in the kitchen.  We made the haul across the country about 3 weeks ago and haven't been doing much cooking, or any baking to speak of.  Between the boxes in the kitchen, not finding our utensils for over a week and Dana's endless bar studying (and my duty to make sure she did in fact study), we haven't had much of a chance to do anything culinary.   Hopefully this gets us back in gear both in the kitchen and on the blog.  We've been neglecting this poor little site for the past couple months due to our move and its time to get going again!
Thanks again to Sunita for the challenge.  Next month we'll be more successful, I promise.  As always you can find the recipes at the the Daring Kitchen site.