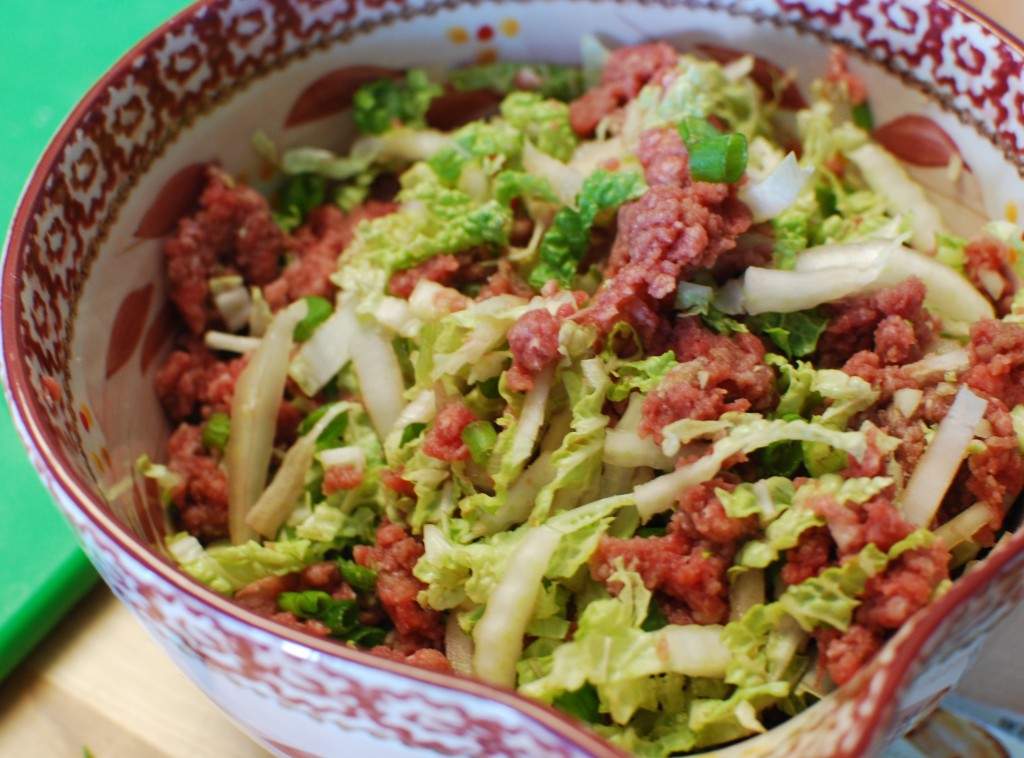 The August 2010 Daring Cooks' Challenge was hosted by LizG of Bits n' Bites and Anula of Anula's Kitchen. They chose to challenge Daring Cooks to make pierogi from scratch and an optional challenge to provide one filling that best represents their locale.
Thanks to to LizG and Anula to introducing me to the world of pierogi!  Now, we've eaten pierogi before, but until this past month had never thought of making them before.  Trying to go for the optional flavor challenge, we thought about making a version that best represented our new San Diego home.  Maybe a carne asada pierogi, or even a "California Burrito" version (for non San Diego resident's, see the Wikipedia page for a description).  Well, we ended up not going the "local flavor" route, but rather made a Chinese inspired pierogi.
Our idea for a Chinese pierogi essential was going to be a doughier pot sticker.  Dana LOVED this idea because when it comes to her pot stickers, the more dough, the better!  We set off to the grocery store looking for some napa, green onion, garlic, sesame and ground pork. Sadly we couldn't find any pork and didn't have time to run to another shop so we decided to go with beef.  After chopping, mixing and forming the pierogis, it was time to cook.  After boiling we decided to throw them in a frying pan for a few minutes to try and get some nice color to them.  And honestly, when is frying something really a bad option?
We served the pierogi with a little chili oil infused soy sauce.  I thought they were pretty good, although the meat could have been seasoned with a bit more salt.  The napa gave a good crunch (I was surprised it didn't cook down more than it did) and the dough was nice and chewy…just how Dana likes it.  One thing she didn't enjoy as much was the meat.  For the first, and probably last, time she actually uttered the phrase, "it would have been better if it was pork (and not beef)"  While I do agree, it doesn't mean I think these pierogis weren't a success.  We'll be making them again for sure.  Dana is already planning a sweet (strawberry perhaps) version and I'd love to fully complete the challenge and make the "California Burrito" pierogi.  For now, you'll have to imagine these plated pierogis as we are not at home and those photos are stuck on my camera!  As soon as I get my hands on a cord I'll upload those pics.
Thanks again for the great challenge!  As always, you can find the recipes at Daring Cooks.