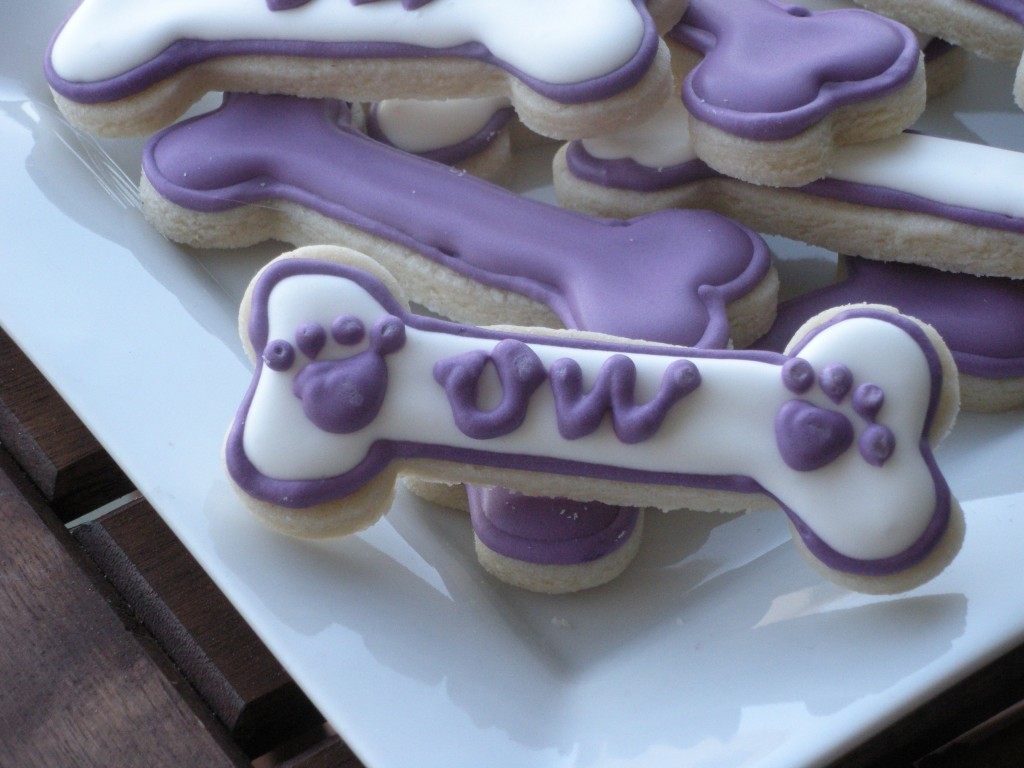 Thanks to Mandy for this month's Daring Bakers challenge.  The September 2010 Daring Bakers' challenge was hosted by Mandy of "What the Fruitcake?!" Mandy challenged everyone to make Decorated Sugar Cookies based on recipes from Peggy Porschen and The Joy of Baking.
So…this will only be a place holder.  The full post will come shortly.  Dana attempted this challenge a couple times this month, which means I've eaten my fair share of cookies in the past few weeks.  Right now we have tupperware full of Purple Bones (UW Huskies football season…which isn't going so well, but that's another story).  But Dana had to leave SD to go to a company retreat in the Big Easy…rough life, I know!  So for now, you'll have to imagine these little dog bone shaped cookies and I'll have to resist not eating them all in one sitting.
**UPDATED**
So I'm finally back and able to write about my sugar cookie baking adventure.  I was very excited when I saw this month's challenge.  I have been toying with sugar cookies for a while but hit a wall a while back.  See, I'm just not a fan of royal icing on plain cookies.  Motivation was a little lacking.  So of course, I welcomed anything that was going to force me to get back to making pretty sugar cookies.
When I made sugar cookies before I actually used Peggy Porschen's recipe, so the making of the cookies was extra easy.  It's a simple shortbread-esqe dough.   I've tried adding lemon and cocoa powder before – both give the cookie a little more since they are very plain on their own.  But this time I added vanilla extract to give it just a hint more flavor.  Oh, and I added a touch of salt.
Piping with a small tip on the other hand, always gives me some problems.  This may be because this is only the 4th or 5th time I've done it.  Clearly I need to practice.
If you haven't noticed… or skipped Steve's intro…. those are purple and white bones.  How do purple bones mean September?  It's the start of Husky football season of course!  How could we make anything else?  September in San Diego is just like any other month.  No changing leafs, no acorns.  I suppose I could have made some sun cookies, but celebrating college football seemed so much more fun!