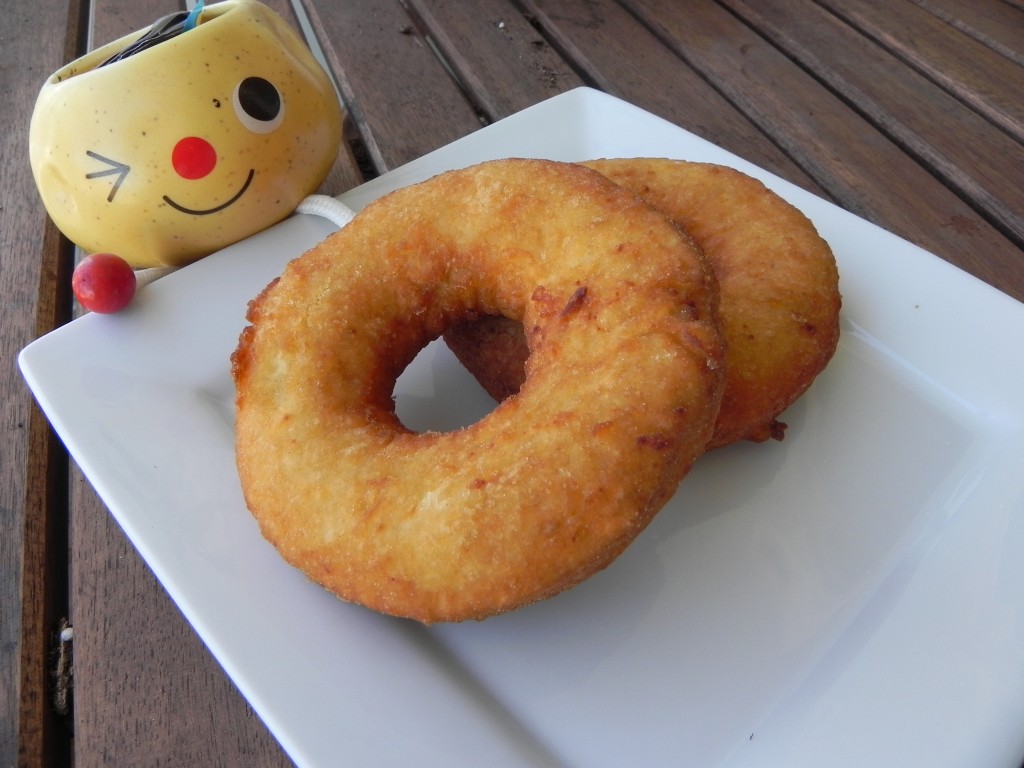 The October 2010 Daring Bakers challenge was hosted by Lori of Butter Me Up. Lori chose to challenge DBers to make doughnuts. She used several sources for her recipes including Alton Brown, Nancy Silverton, Kate Neumann and Epicurious.
I was super excited about the Daring Bakers challenge this month – Doughnuts! Steve and I had never made doughnuts at home before (even though I LOVE doughnuts). My best guess is that our avoidance stems from the fact that the two of us with a pot of hot oil poses some risks. More risks for me – so I let Steve do all the frying. I of course was in charge of making the dough and forming the donuts. I must say doughnuts are incredibly fun to cut out And since I'm horrible at planning out where my circles are going… doughnut holes are perfect for all those leftover spaces!
Cute doughnut hole! …with my scary floating monster hand…
We just went straight by the recipe for buttermilk cake doughnuts (no time to experiment this month). And topped all the doughnuts off with powdered sugar. The dough came together really quickly (and with ingredients we already had in our kitchen I might add) and was easy to pat out for cutting. I'd say frying was simple too – but I didn't participate, so I have no idea. But the fact that Steve came away with no burns, suggests it was quick and painless.
Delicious! We will definitely be making these again. And I can't wait to try the other recipes Lori suggested – especially the yeast doughnuts. As always, recipes are available at The Daring Kitchen.
On another note, all these pictures were taken on my cute new camera (rather than Steve's DSLR) that Steve got me for my birthday (Nikon P100). I think it did alright for taking pictures in our poorly lit kitchen at 10pm. I'm definitely a fan!
Edit*  I got a few shots during lunch with natural light.  Dana's new camera handled our kitchen light pretty nicely last night, but nothing beats light, au natural
Homemade doughnuts…so tasty even taterpots can't resist!