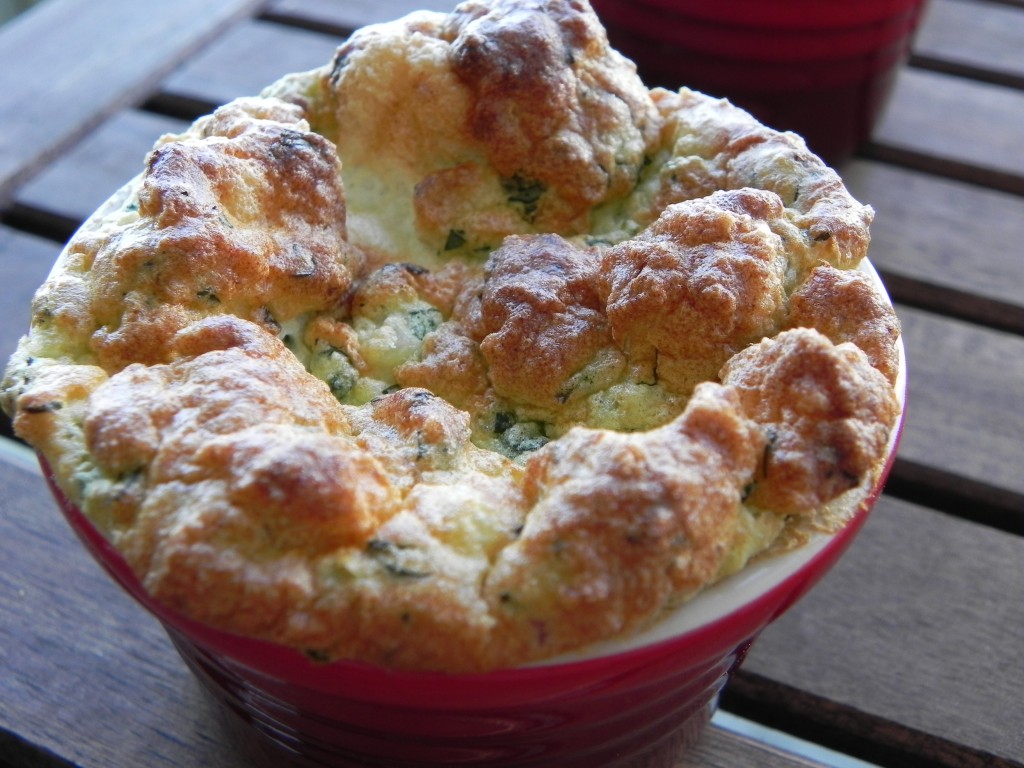 It's the 14th, so that can only mean one thing, the latest reveal for the Daring Cooks Challenge. This month's challenge was to make a soufflé. And now for the obligatory blog checking line.
Dave and Linda from Monkeyshines in the Kitchen chose Soufflés as our November 2010 Daring Cooks' Challenge! Dave and Linda provided two of their own delicious recipes plus a sinfully decadent chocolate soufflé recipe adapted from Gordon Ramsay's recipe found at the BBC Good Food website.
This month's challenge was exactly why we decided to join the Daring Cooks and Bakers last year, to push us in the kitchen. We always seem to get into ruts when it comes to cooking. Its been especially bad since we moved this summer. When we finally make a decision we've either given up and decided to go the take out route or end up making one of our few regular dishes. While neither of the options are all that bad, we really need to start experimenting more in the kitchen. This month's experiment…Souffle!
The host provided us with a few options to try. Some savory and some sweet. I ended up trying out the Parmesan and watercress variety. The recipe itself was fairly simple. Beyond the the essentials to the soufflé (eggs), the recipe called for only a few other ingredients, mainly watercress and Parmesan. For some reason, I could have sworn that shallots were in the recipe. I went the grocery store with this in mind so I came home with a few shallots. Much to my surprise, when I set to make the soufflé shallots were nowhere to be found in the recipe. Well… I bought them so I was going to use them!
Part of the problem with getting in a cooking rut is that I'm starting to get slower and slower in the kitchen. I'm not sure how long the entire process should have taken, just that it took me waaaay longer than it should have. Part of what took me longer than necessary was incorporating the egg into the watercress mix. The egg needs to be added in two steps. First the yolks needed to be tempered and then mixed in with the watercress, milk cheese and shallots. I was a little worried about tempering the yolks, but that actually went fairly smoothly. Next up was the one process I was dreading all day. Folding in the egg whites.
Normally Dana would come to the rescue when I got to this point. Since she does most, if not all, of the baking she's had a decent amount of practice folding egg whites. Me…not so much. The last, and only, practice I've had folding was a couple of months ago. Long story short apparently my idea of folding was more along the lines of mixing. Today, Dana had to work so there was no one there to come to my rescue. As the egg whites were beating, I was starting to get a little nervous. After checking a few "how to" videos I felt a little better, but still not great. Once they were beaten to stiff peaks it was go time. Using Dana's advice of "just go slow" I attempting this daunting (to me) feat. It, like with the tempering, went fairy smoothly. My final product was still nice and airy so i think I didn't mix too vigorously! I realized a couple of hours later that i forgot to take in process photos, so you'll all have to just take my word for it.
After popping my little ramekins in the oven, the only thing left too do was to watch these little babies rise.
Thanks again to Dave and Linda for this challenge. As always you can find the recipe on the Daring Kitchen site.