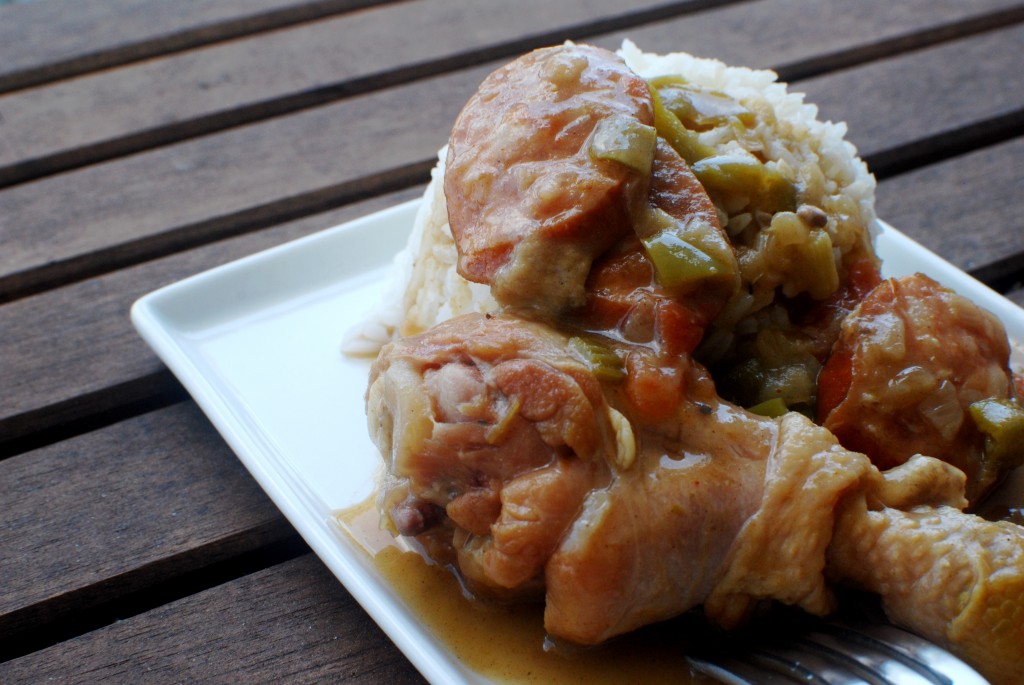 We're still trying to get through our glut of past challenges.  This time, we're only a few days late, and not a month plus!  It's all about the small victories.
Our May hostess, Denise, of There's a Newf in My Soup!, challenged The Daring Cooks to make Gumbo! She provided us with all the recipes we'd need, from creole spices, homemade stock, and Louisiana white rice, to Drew's Chicken & Smoked Sausage Gumbo and Seafood Gumbo from My New Orleans: The Cookbook, by John Besh.
For the gumbo, we decide to go with a land animal variations.  Both of us love most seafood, but for some reason we rarely cook it at home.  And by rarely, I mean once or twice  a year (aside from Daring Cooks challenges).  It's probably because we're pretty bad at planning meals, so buying fish at the market would probably result in us throwing it out a couple of days later.
Anyway, back to the gumbo.  We invited a couple of friends over to be our guinea pigs for this challenge.  When they asked what they could bring, I joked that they should come over with the precooked Trader Joe's chicken they had been planning to eat that evening.  Although it was a joke, it was almost needed.
After Dana got home from work, which was an ordeal since she had to drive to Orange County that day.  It was the first time she had driven the car we bought in August.  Well, second time driving  The weekend prior she practiced, just to get a little used to the car.  To speed things up, we divvied up the tasks.  Dana chopped the veggies, I made the roux.  Unfortunately we didn't keep the duck fat from the duck confit, so I had to opt for canola oil.  The instructions said to add the flour to the hot oil, which I did.  I must have either had the stove on too high or didn't add/whisk the flour fast enough because it didn't take 15 minutes to turn a dark brown, like the instructions said.  It took one.  And 30 seconds after that, dark brown had turned to black and our apartment started to fill with a wee bit of smoke.  Not too much, but you could definitely smell it.
After 15 minutes or so of scooping out the burnt flour, which luckily had become fairly solid/clumpy so it was easy to remove and wiping down the Le Creuset, we were back in business for try number 2.  At this point, I was hoping they took my joke seriously and would bring their TJ's chicken.  Well, try number 2 was a bit more successful.  To be safe, I lowered the temp, dumped all of the flour in at once and whisked away like a madman for 15 minutes.
The rest of the cooking was pretty uneventful, aside from one thing.  See, I'm not very good at reading directions.  By the time I read through the whole thing, I've forgotten the first 10 steps.  I have the same problem listening.  It causes issues from time to time, especially when one of those things I forget is a person's name.  This happens a lot.  In this case, the step I forgot was that we were supposed to used an 8 quart pot.  Since getting our Le Creuset for our wedding, I want to use it whenever possible  This meal was no different.  I didn't even think about the volume issue (ours is 6.75 quarts) until Dana mentioned it as the chicken and veggies were cooking.  I looked at it.  I looked at the 3 quarts of chicken stock.  Back at the pot.  Back at the chicken stock.  Once more to the pot.  "Nah, I think we'll be good."  I proclaimed.   I figured there was a lot of empty space between the chicken, etc.  After pouring in the first quart of the stock, I quickly realized there was a lot more in the pot than I realized.  After two quarts, our pot was full.  Apparently in addition to my issues paying attention, I have pretty bad spatial sense as well.  We cut the okra by about a third to make sure it didn't turn into gumbo paste.  And to my credit, when our friends arrived, they said it had a great sausage to liquid ratio.   Can I claim I just wanted to make a meatier gumbo?
Overall, despite our roux and chicken stock issues, the gumbo was a success.  Everyone loved it, which is good because it made waaaay more than 4 servings.  I'm going to be eating it for days.  The one thing I'd change is I'd either brown the chicken in a separate pan or brown it before the roux and remove it until later.  The chicken never really browned, and ended up looking like boiled chicken.  Not them most appetizing thing.  That's just a minor complaint though.  The chicken was moist and tasted great. Just looked a little sad and wrinkly.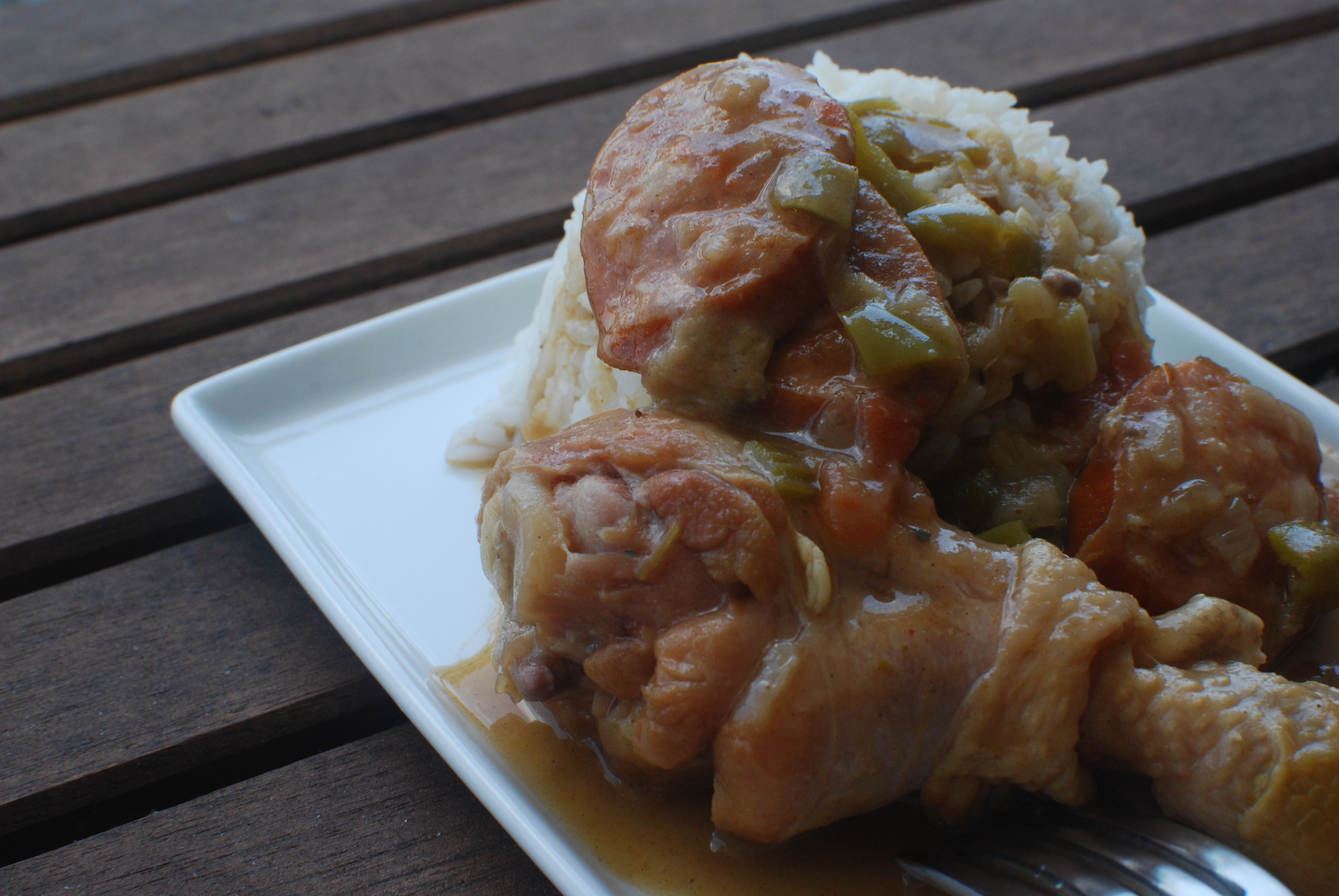 Thanks for the great challenge.  I'll be eating gumbo for the next week!  As always, you can find the recipe at The Daring Kitchen