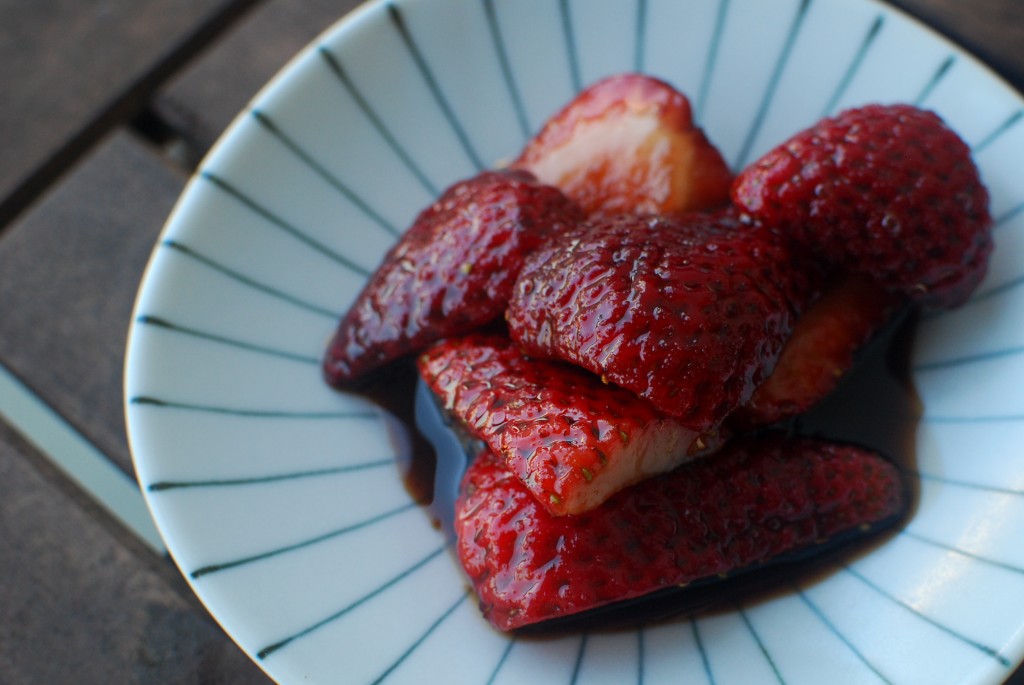 Back in April, Dana and I spent 2 weeks in Barcelona for our honeymoon.  The day we booked our flight, what do you think we did?  Book a hotel?  Nope.  Look up what sights to see?  Wrong again.  Check what the weather was going to be like?  Didn't care.  Nope, the first thing we did was make dinner reservations at Comerç 24.  Comerç is the brain child of Carles Abellan, a former disciple of Ferran Adriá at the now closed El Bulli.  The last time we were in Barcelona we tried to get a table, with no luck.  We were not going to have that happen again this time.
Some time in the near future, we'll hopefully have a blog post or two on some recreations from that night at Comerç 24, like chocolate with olive oil and sea salt or their "pizza" with anchovies, arugula and wild strawberries.  For today, our inspiration comes from another of Abellan's restaurants, the more traditional, more casual and less expensive Tapas 24.
Tapas 24, off of Passeig de Gracia.
After an amazing meal at Tapas 24, Dana and I had a big choice to make.  Do we have the chocolate with olive oil, which we knew was amazing from our dinner at Comerç, or strawberries with balsamic vinegar.  Being the indecisive folk that we are, we made the obvious choice.  Order both.  The obvious choice was also the correct choice.  Both were insanely good and insanely simple.
This morning, we got back from a whirlwind trip back north to Portland.  In our fridge was four pounds of strawberries, among other berries, we bought almost a week ago.  Pressed with a need to use a good amount of the strawberries before they went bad, Dana thought of our dessert at Tapas 24.  Since the dessert was pretty self explanatory, we figured we had all the ingredients (strawberries, sugar and balsamic vinegar), so it was just a matter of getting the proportions correct.  After finding something in one of our cookbooks, we got started.
Strawberries and sugar..good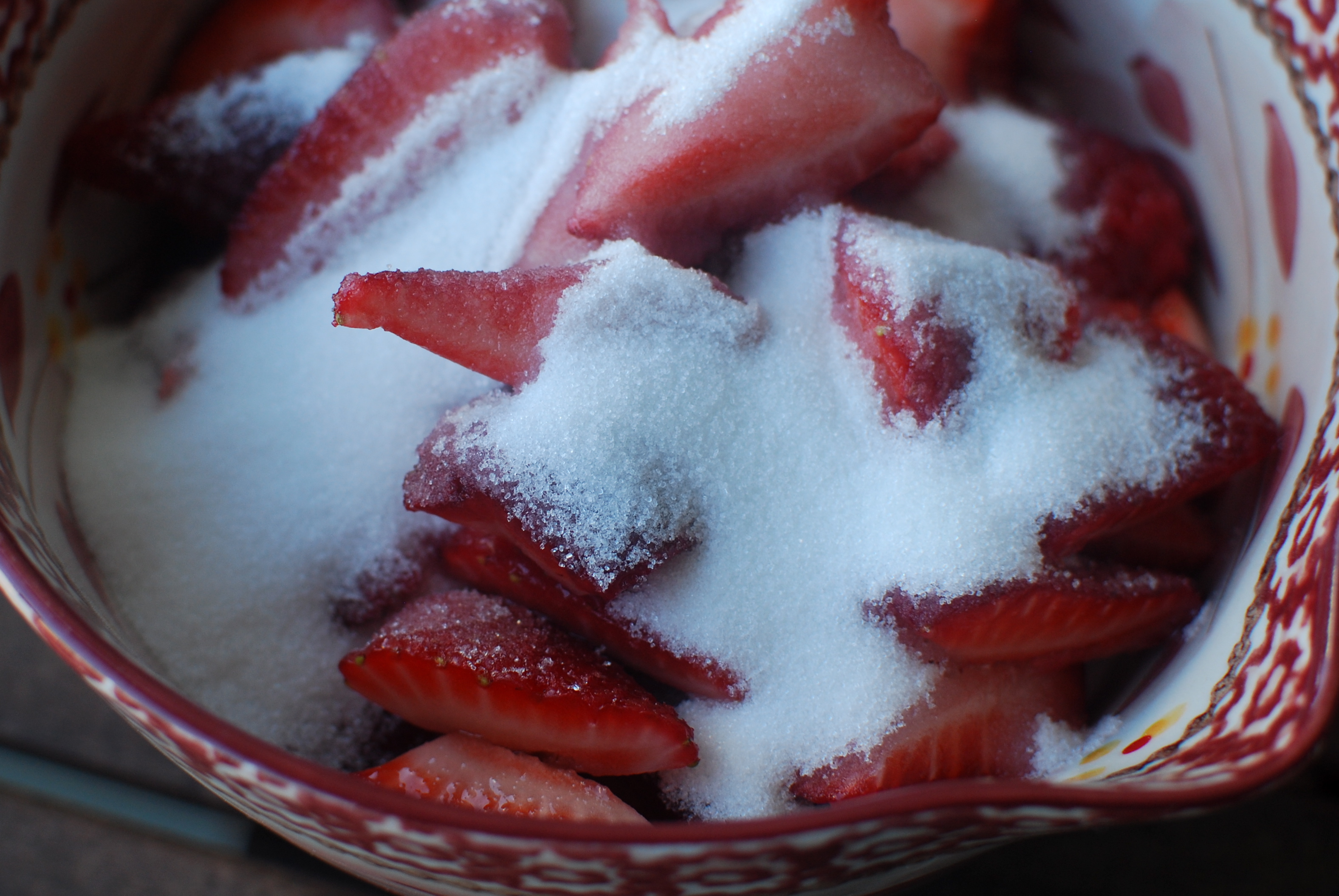 Strawberries w/ sugar & balsamic…better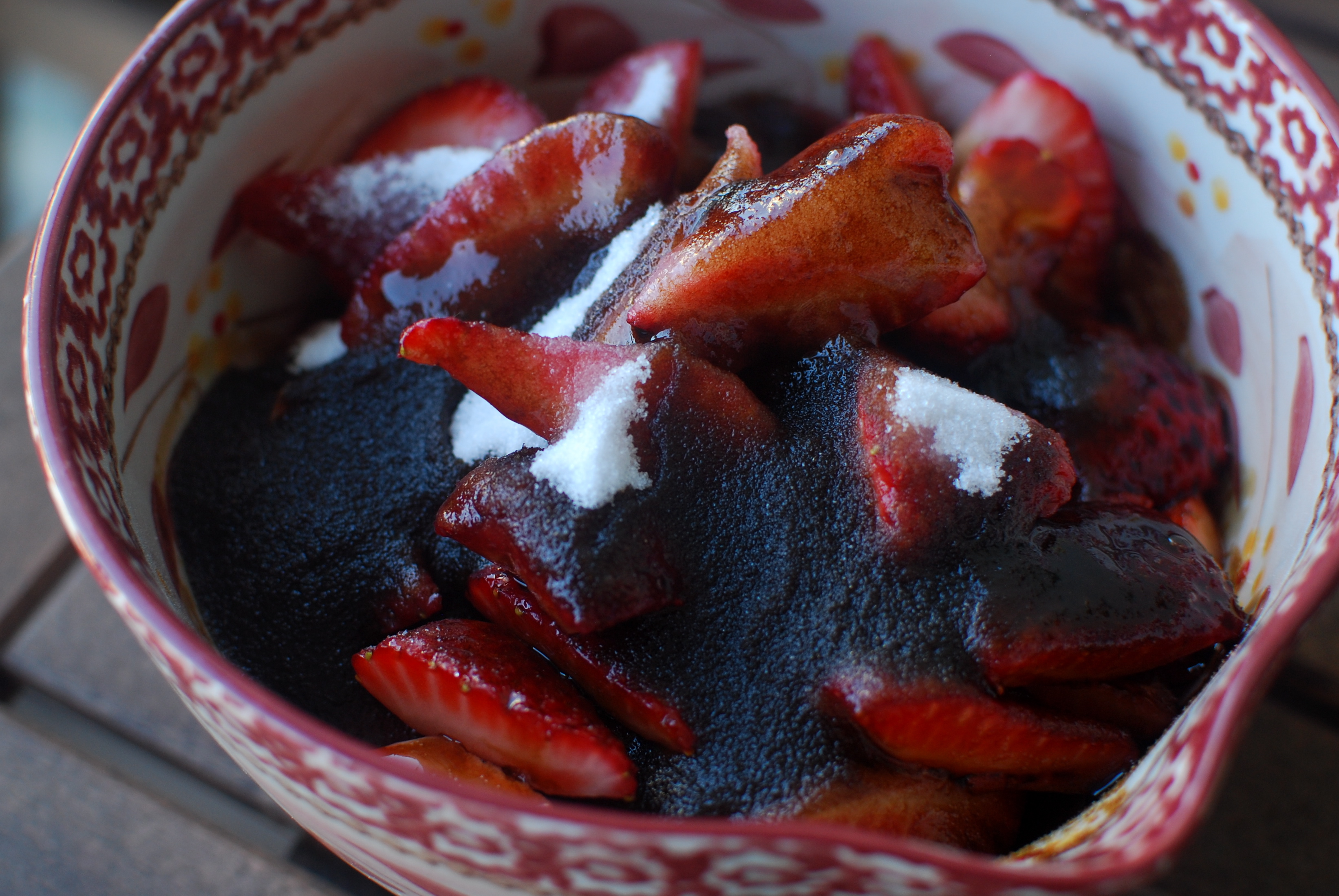 We didn't have anything to eat these with, but they would have been great on ice cream, or a light cake.
Balsamic Strawberries
(inspired by Tapas24 and Bon appetit desserts)
3 cups of strawberries, hulled and quartered
1/2 cup sugar (a little more if the strawberries are tart)
1/4 cup good balsamic vinegar
Pretty simple here – put all ingredients in a bowl and mix gently.  Let the strawberries stand at least a half hour, mixing periodically.  Best within a few hours, as the strawberries continue to break down and take on the vinegar flavor.