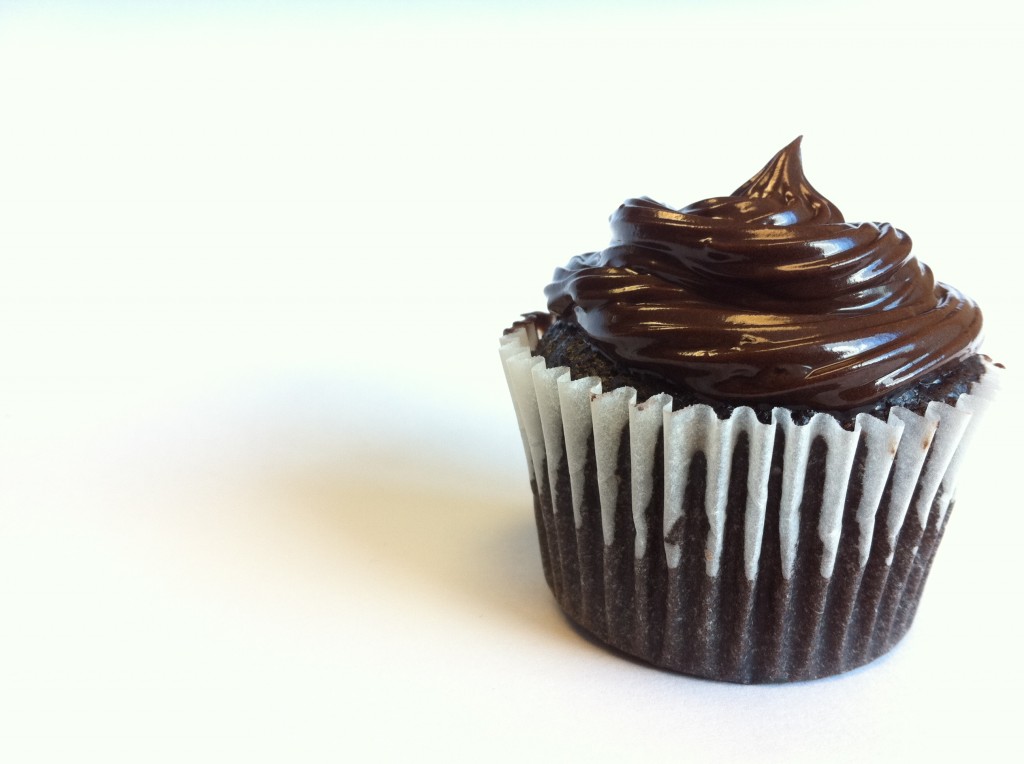 And we're back.
My birthday was last week and for the coming year I'm committing to a "birthday resolution" of sorts.  Basically, I'm promising myself to spend one hour a day creating something/making something with my hands.  Obviously, this can include the food creations Steve and I have written about before.  But beyond that, this commitment also includes all the various other art/craft hobbies I enjoy – painting, sketching, block printing, silk screening, graphic design, paper arts…  the list goes on.  I have a lot of hobbies, what can I say?  One hour may not seem like very much, but since I have a day job, I'm starting small – with a goal I might actually have a chance of reaching.   And maybe, if I get my act together, there may be more than just food on this blog in the near future.
But for now back to the food.  For my birthday this year, I made chocolate salt caramel mini cupcakes.  These have made an appearance on the blog before, but this time I decided to use a different caramel filling.  The original version was tasty I just didn't like to have to keep chewing the carmel long after the cupcake was gone.  So I substituted a softer caramel which mostly soaks into the cupcake leaving it moist in the middle.  This combination was a major success with everyone who tried them.  Soft caramel filling from now on!
Chocolate Salt Caramel Cupcakes
(adapted from Martha Stewart Cupcakes and Baked Explorations)
Original post for baking the cupcakes, making the frosting and assembly can be found here: Chocolate Salt Caramel Cupcakes.  Substitute the caramel in that recipe with this new softer version below.  I doubled this recipe for a single batch of cupcakes, but ended up with plenty of extra (the horror!) so a single batch might be enough.
1 cup sugar
2 tbsp light corn syrup
1/4 cup water
1/2 cup heavy cream
1 tsp fleur de sel
1/4 cup sour cream
In a medium saucepan, combine sugar, corn syrup and water. Stir together gently to avoid splashing the sides of the pan. Cook over high heat without stirring until the mixture is dark amber (or reaches 350 degrees), around 6 to 8 minutes. Watch closely as it can burn quickly. Remove from heat and slowly add the cream while stirring (careful – it will bubble) and then stir in the fleur de sel. Whisk in the sour cream and set aside. Cool before filling the cupcakes.