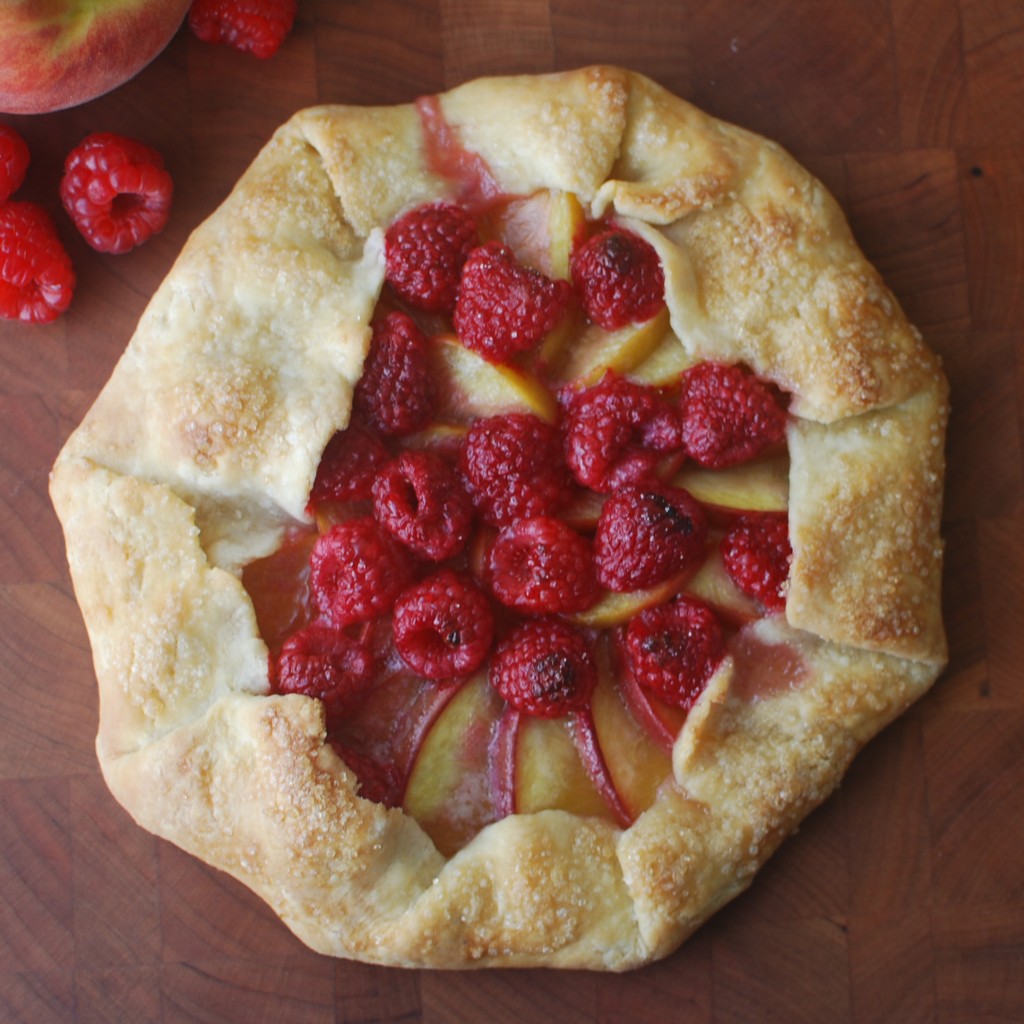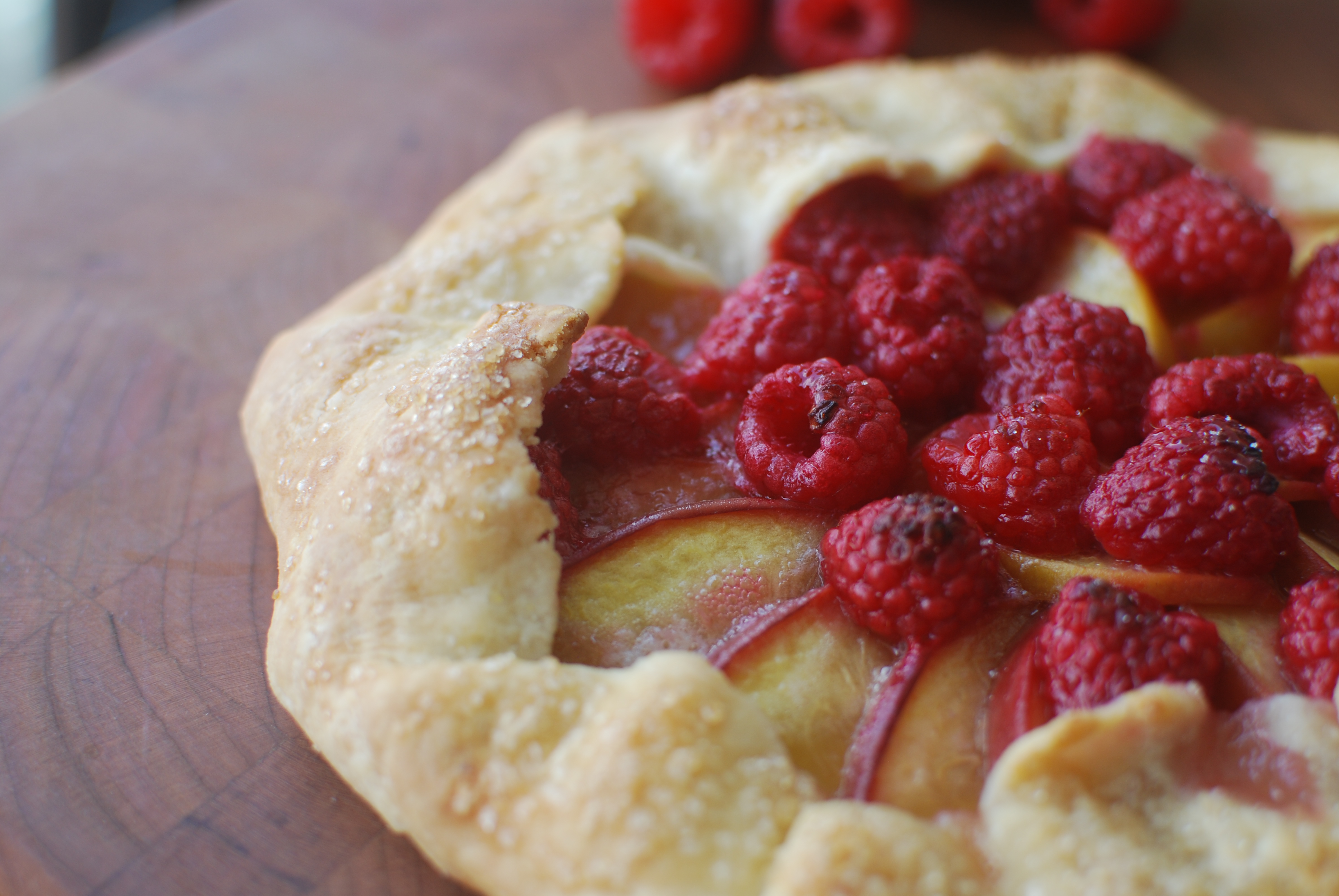 So…. I admit it.  We made this for the fourth of July.   It's now October – so not exactly prime peach or raspberry season.  But I'm working through a back log of recipes so thought I'd share this beautiful and simple galette.  And who am I kidding?  It's always a good time for raspberries in this house.
I suspect you could make this galette with a number of wonderful fruits – beautiful fall pears or plums perhaps?  I might just have to try that this weekend… I promise I'll post it before February.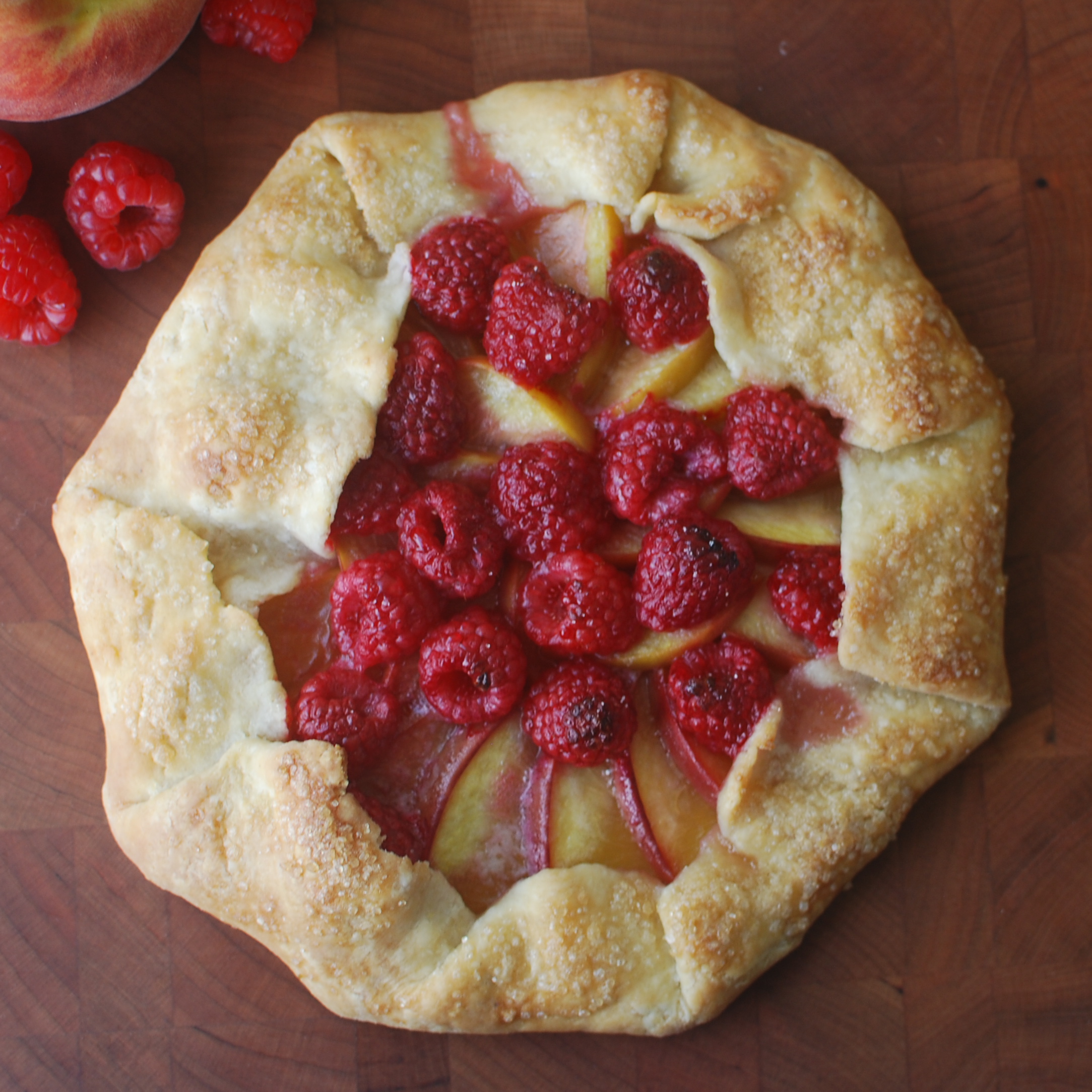 Raspberry & Peach Galette (makes 2)
Dough:
3 tbsp sour cream
1/3 cup ice water
1 cup all purpose flour
1/4 cup cornmeal
1 tsp sugar
1/2 tsp salt
7 Tbsp unsalted butter; cold and cut into 7 pieces
Fruit:
2-3 peaches, pitted and sliced
1 cup raspberries
2 Tbsp sugar
2 Tbsp cold unsalted butter cut into thin slices
water
turbinado sugar
This is a dough that's been on this blog before. Put flour, cornmeal, sugar, and salt in a food processor and processor briefly to mix.  Next, add the cold butter and pulse until butter chunks until the chunks of butter are about the size of peas.  In a separate bowl, mix the sour cream and water together as well as you can.  Then add this mixture into the food processor and pulse until it comes together.  Gather the dough into two discs, wrap with plastic wrap and chill for at least two hours.
After chilling, preheat oven to 400 degrees and line two baking sheets with parchment paper.  Roll out each dough disc on lightly floured surface to about 1/8 inch thick.  Transfer the rolled out dough to the baking sheets.  Carefully fan out half of the peach slices on each dough round leaving a 2 to 3 inch border.  Add the raspberries on top, again splitting between the two rounds.  Next the butter.  Then fold the edges of the dough up around the fruit, pleating as necessary.  Brush the edges of the dough with water and sprinkle with sugar.
Bake each galette for 35-40 minutes.  Transfer to rack to cool and let cool for 10 minutes.  Enjoy.