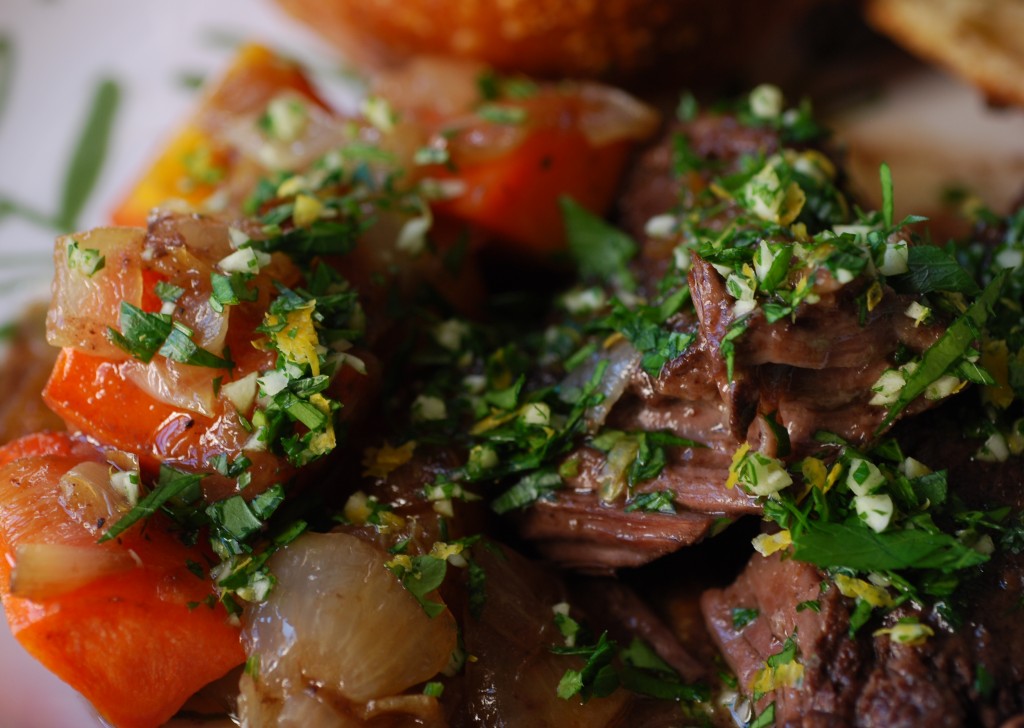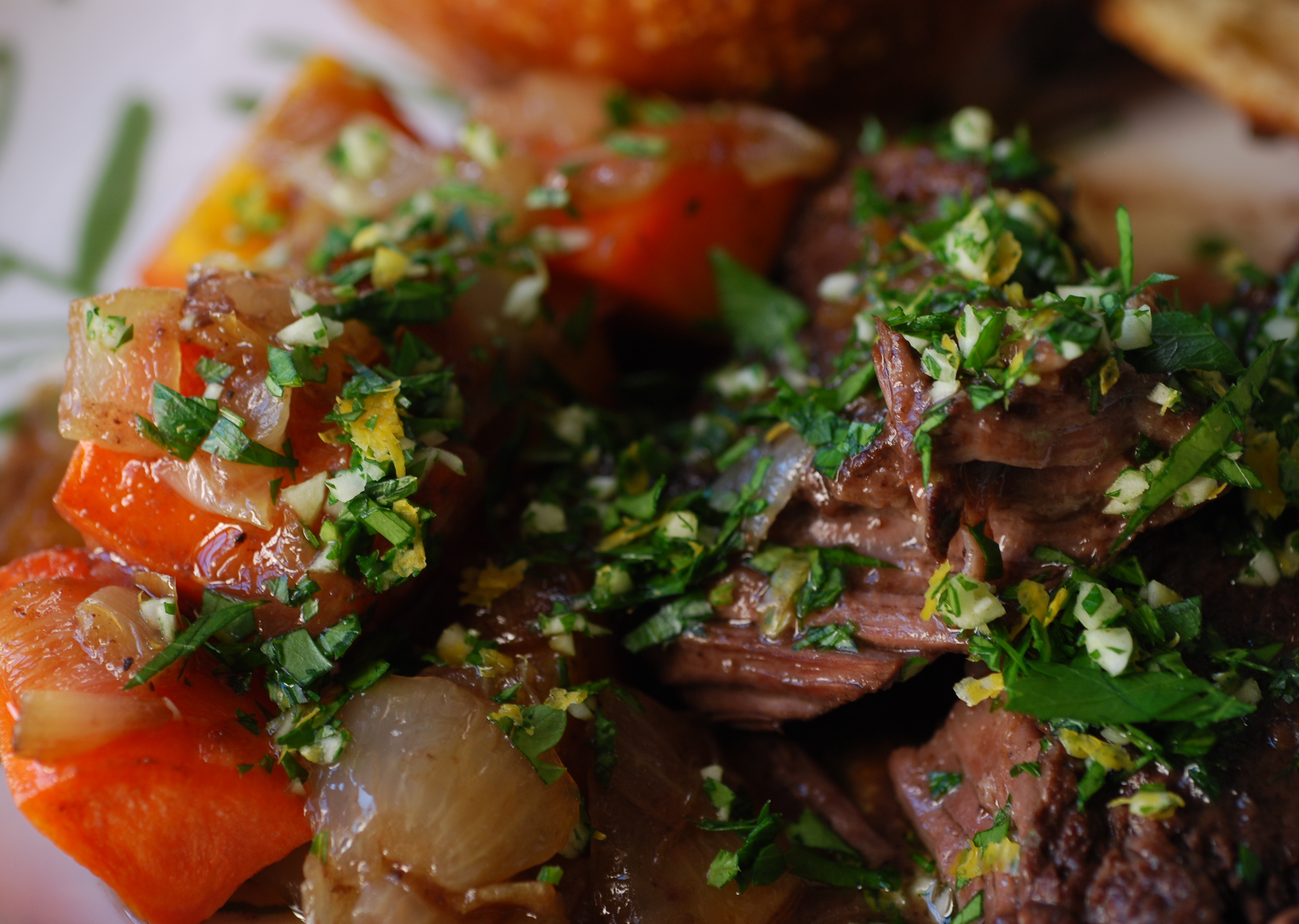 The past 6 months or so we've taken a little hiatus from Daring Cooks/Bakers.  We kept procrastinating and then ended up half assing our way through each challenge.  Having to rush through the challenge, only to be dissatisfied with the results, we figured it was better to quit, or at least take a break from The Daring Kitchen.  Since then, we've moved, joined a CSA and Dana has been baking new creations.  What we haven't been doing is venturing out to cook with new recipes/flavors and more important to this post, we haven't been blogging.  I think Dana posted her big birthday resolution that we would post more often.  That was October.  Our next post was only a few days ago.  I don't think every 5 months counts as "more often".  Well, this makes 2 posts in a week and our official return to Daring Kitchen.  We still rushed through the challenge, but that was the result of making the decision to rejoin only a few days ago.  From here on out we'll be more committed (won't wait until the day before to start planning) and we look forward to all of the upcoming challenges.
All that being said, now its time for the obligatory blog checking line.  The March, 2012 Daring Cooks' Challenge was hosted by Carol, a/k/a Poisonive – and she challenged us all to learn the art of Braising! Carol focused on Michael Ruhlman's technique and shared with us some of his expertise from his book "Ruhlman's Twenty".
Let me start by saying Dana and I love braising meat, although we really don't do it all that often.  I'm not really sure why since it is such an easy way to ensure a well cooked piece of meat.  We make pot roast from time to time and in the past year started making chicken cacciatore fairly regularly.  Plus, it gives us the perfect excuse to pull out our le Creuset that we received as a wedding present last year.  Since we were so short on time, we decided to stick fairly close to the provided recipe for short ribs.
Luckily for us, we had almost everything already on hand.  We always have onions, had a few stalks of celery leftover from making spaghetti a while back and we had the most gorgeous purple carrots from the farmers market.  When we saw them in the stand last week, I wasn't quite sue what they were (they hadn't put up a sign yet).  They look like carrots, but are deep purple in color.  They're probably not all that rare, but it was the first time I had come across them at the farmers market.
"Purple" carrots that look more like sweet potatoes when peeled and cut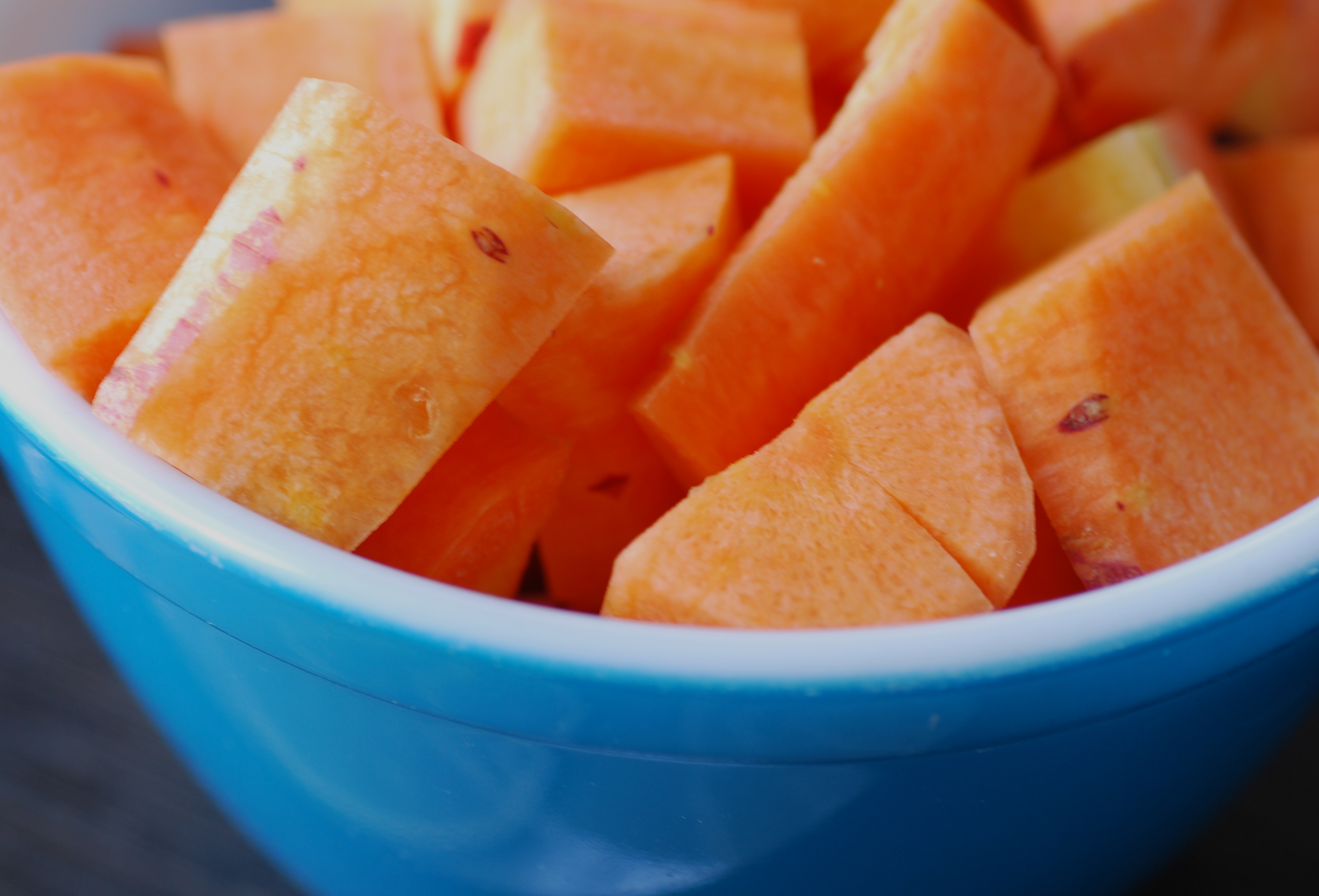 The braised short ribs recipe was actually really simple, which I guess is the point.  Essentially, sear the meat and remove.  Saute onion/carrot/celery, add tomato paste (though I had to sub tomato sauce), wine, a bulb of garlic and ribs.  Cover and braise for 4 hours at 250 degrees F.  I was a little quick with the sear because these were boneless ribs and I really didn't want to overcook them from the onset.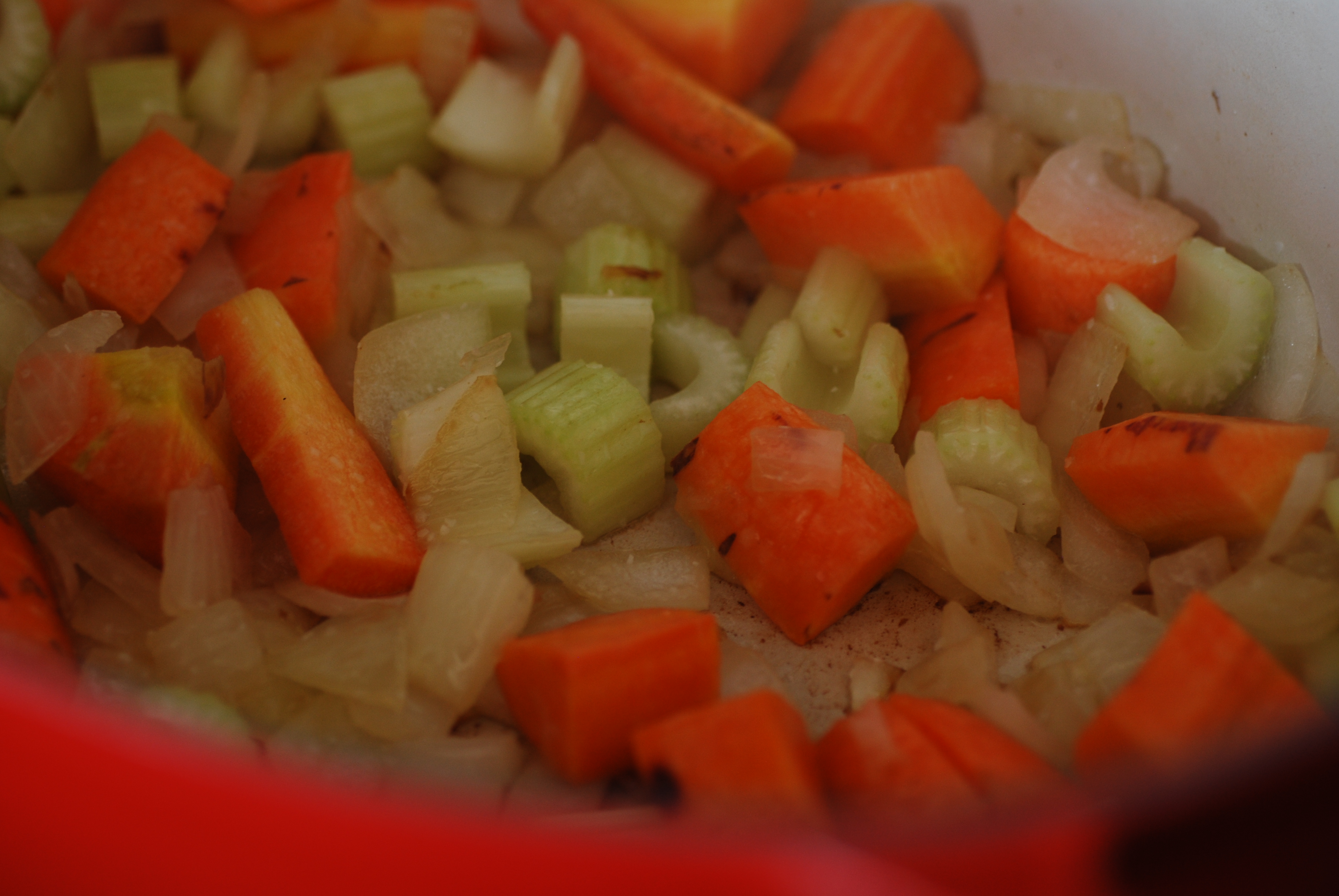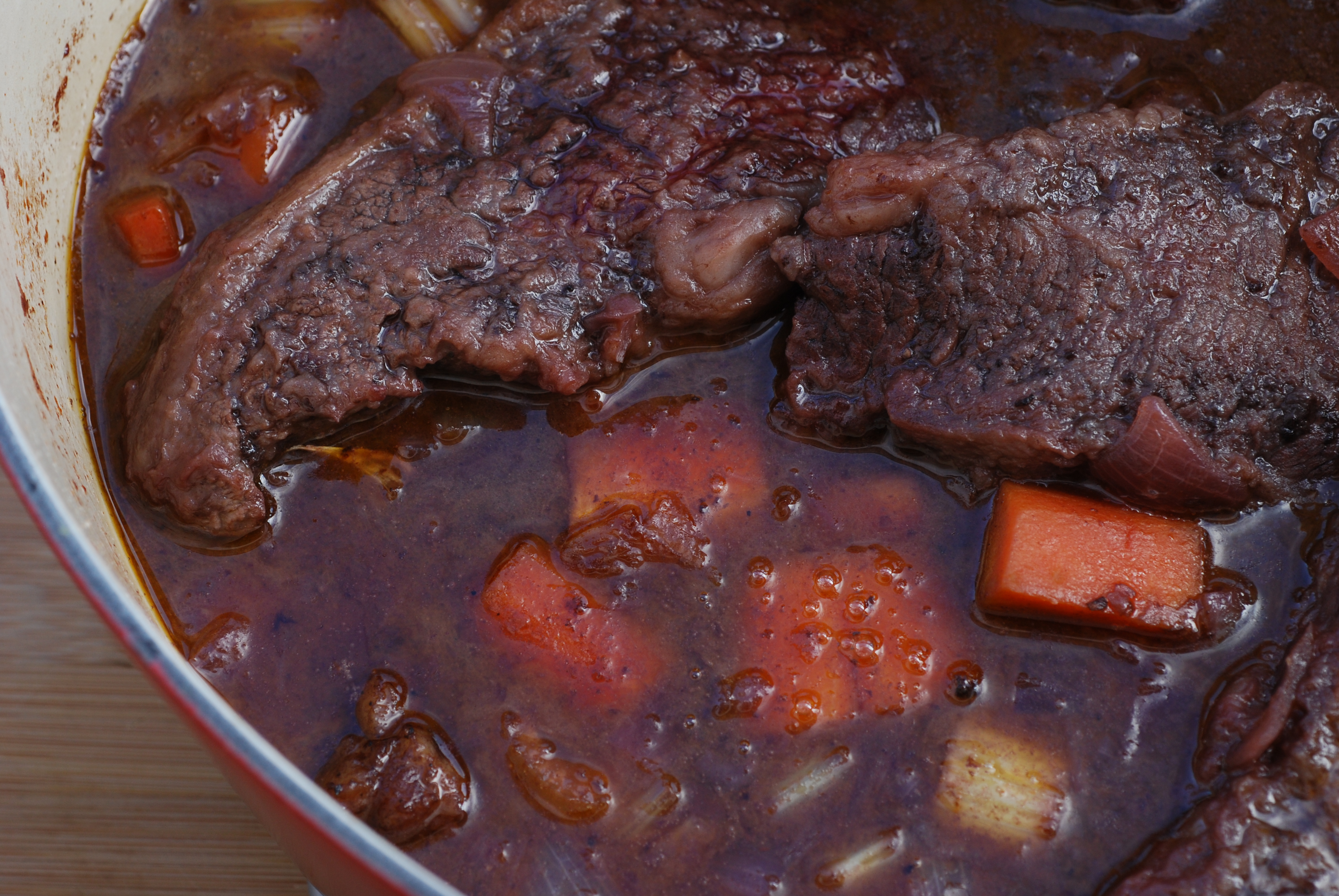 The one twist in the recipe is that after braising for 4 hours, you're supposed to strain liquid and add back freshly sauteed onions and carrots.  At first I thought that this was pretty wasteful as tossing out the veggies, but it was needed because  the garlic was unpeeled.  The fresher carrots also gave our photos a bit more color than those that had cooked for hours.  The final step is to garnish with gremolata: a parsley, garlic and lemon zest mixture.  The gremolata added a nice freshness to the dish and added some much needed color for my photos!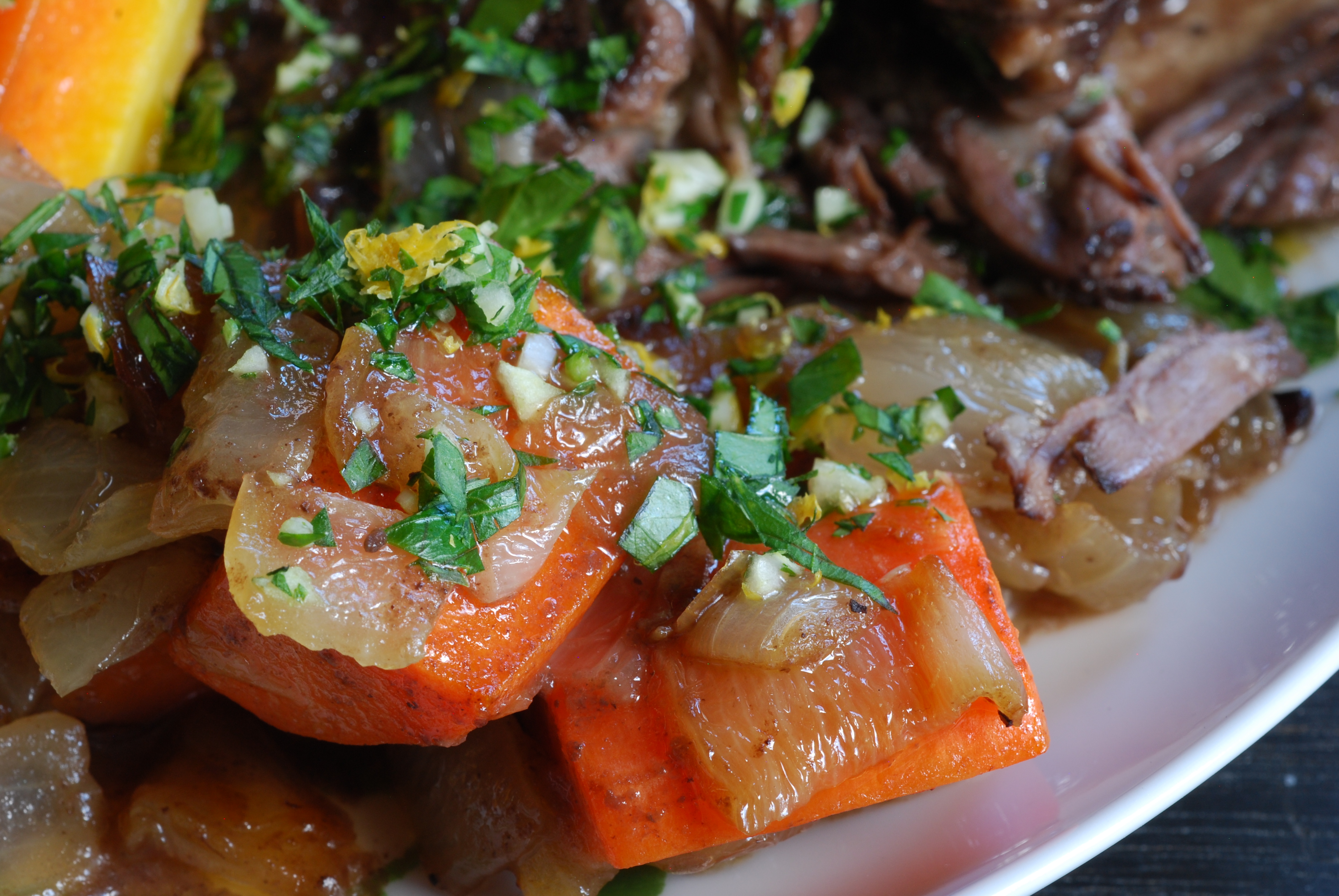 I'd say that our return to Daring Cooks was a success.  The meat came out fork tender and the stewing liquid was perfect to eat with rice or a nice crusty bread.  I'm sure it would have been just as good on some pasta or quinoa, which we were going to make before we remembered we had a bit of bread leftover from the weekend.
Thanks again to Carol for the great challenge.  As always you can find the recipe at The Daring Kitchen.