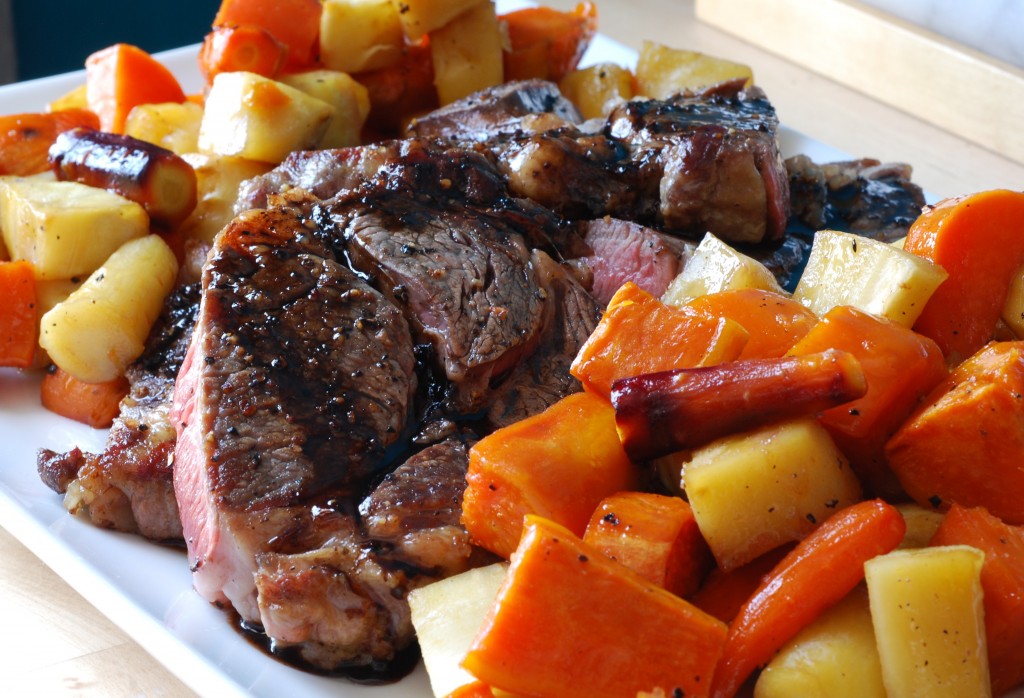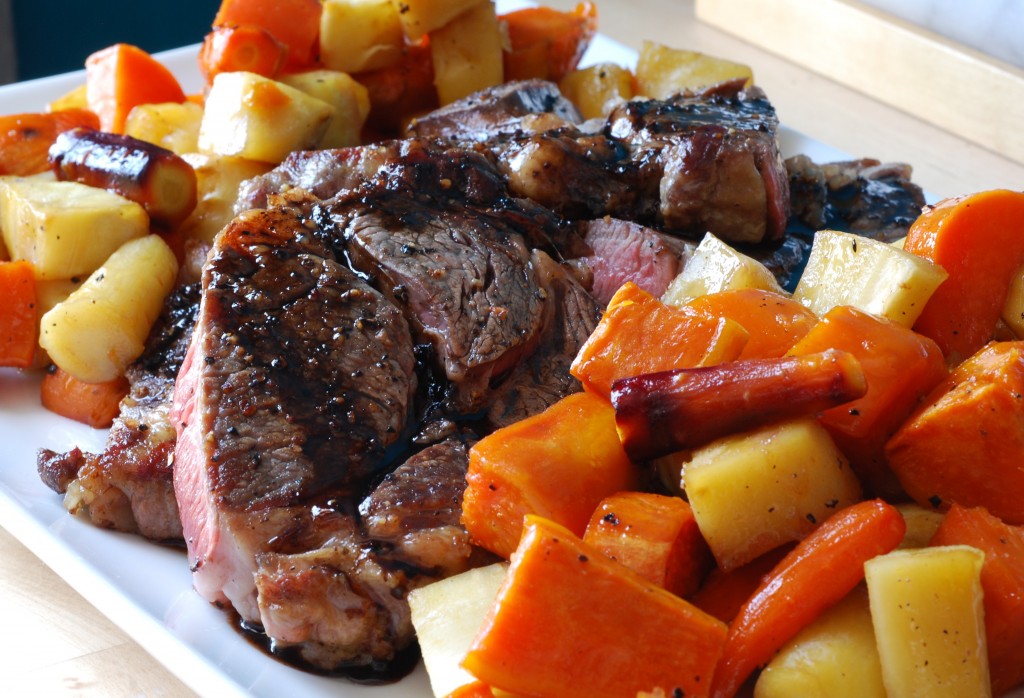 We are slowly working our way back into blogging regularly.  It's been about a month since our last post, which means it's Daring Cooks time.  This month's challenge had a little twist.  Rather than requiring us to prepare a set recipe, this month's hosts gave us a little Chopped inspired challenge.  Our April 2012 Daring Cooks hosts were David & Karen from Twenty-Fingered Cooking. They presented us with a very daring and unique challenge of forming our own recipes by using a set list of ingredients!
First, the actual challenge.  Like I said before, this month's challenge is a bit like the show Chopped.  On the show, contestants have to open a basket with a few ingredients that they must use in either an appetizer, entree or dessert, depending on the round.  Our challenge wasn't quite so restrictive, but more or less the same spirit.  We were required to use three ingredients – one from each of three categories.  The three lists were:
Ingredient 1: Eggplants, parsnips or cauliflower
Ingredient 2: Balsamic vinegar, goat cheese or Chipotle peppers
Ingredient 3: Maple syrup, instant coffee or bananas
The first dish that both of us thought of was a mole.  The Chipotle peppers were obvious, coffee is often used in recipes with chocolate and we could easily incorporate one of the veggies from the first list into our version of a mole.  For about a week or two we were all set to make a mole.  Then, we came to the realization that we really didn't have any of the numerous (20+) ingredients needed to make an authentic (or as close to authentic as possible) mole.  It's the same reason why we've never attempted to cook Indian food.  Why spend a ton of money on dozens of spices when we can just run downstairs and get the real thing?  Needless to say, we scrapped the whole mole idea and went back to square one.
After some debate, we figured out our back up plan.  Our ingredients were: (1) parsnips; (2) balsamic vinegar; and (3) maple syrup.  Our menu of choice was pan seared steak in a balsamic reduction with a maple roasted root vegetable medley, with parsnips being the star.  Neither of these were all that adventurous, but since we never (maybe twice a year) cook steak, we thought this was the perfect excuse to buy a couple of nice rib eyes.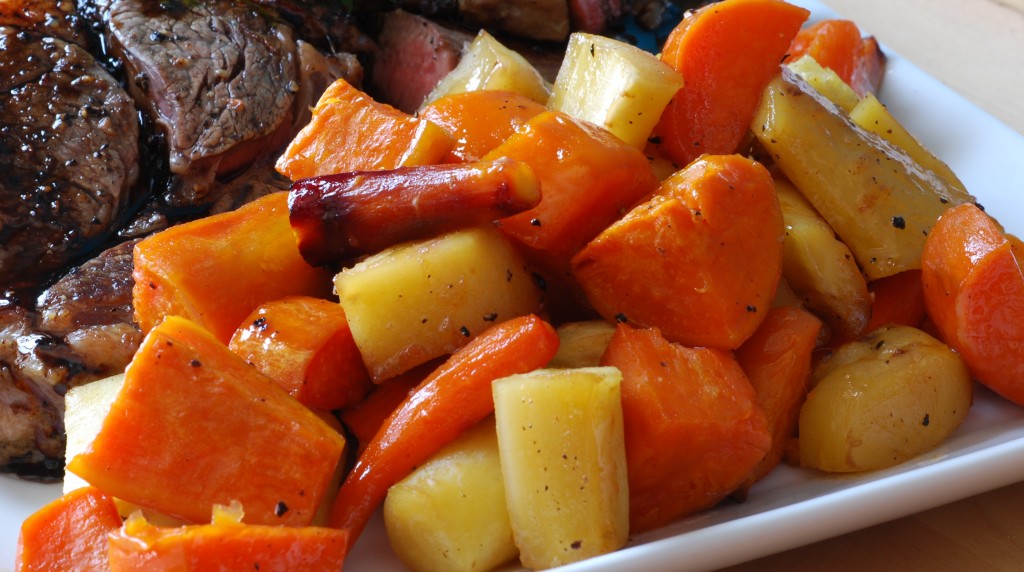 For the parsnips, we roasted them with sweet potatoes from our CSA and mini purple carrots from the mercato in a maple glaze.  Pretty simple, but oh so sweet and tasty!
The steak preparation was fairly straight forward.  Since we knew we were going to finish with the balsamic reduction, we opted to only season the meat with salt and pepper.  After the steaks came out of the pan, we started on the sauce.  There was a decent amount of leftover vegetable oil/butter/rendered fat so Dana was bit worried about the vinegar causing some extreme splatter.  So, with arms, and hands, fully covered, she quickly tossed in the balsamic.  Meanwhile I was just as far from the pan, wearing only a tee shirt.  Whats a few minor grease burns? Well, despite being prepared for the worst, the balsamic didn't do any more than cause a big plume of steam.  (I should note that Dana's fears aren't completely unfounded… I did once accidentally give her a TINY grease burn on the cheek…) After a few minutes, dinner was served!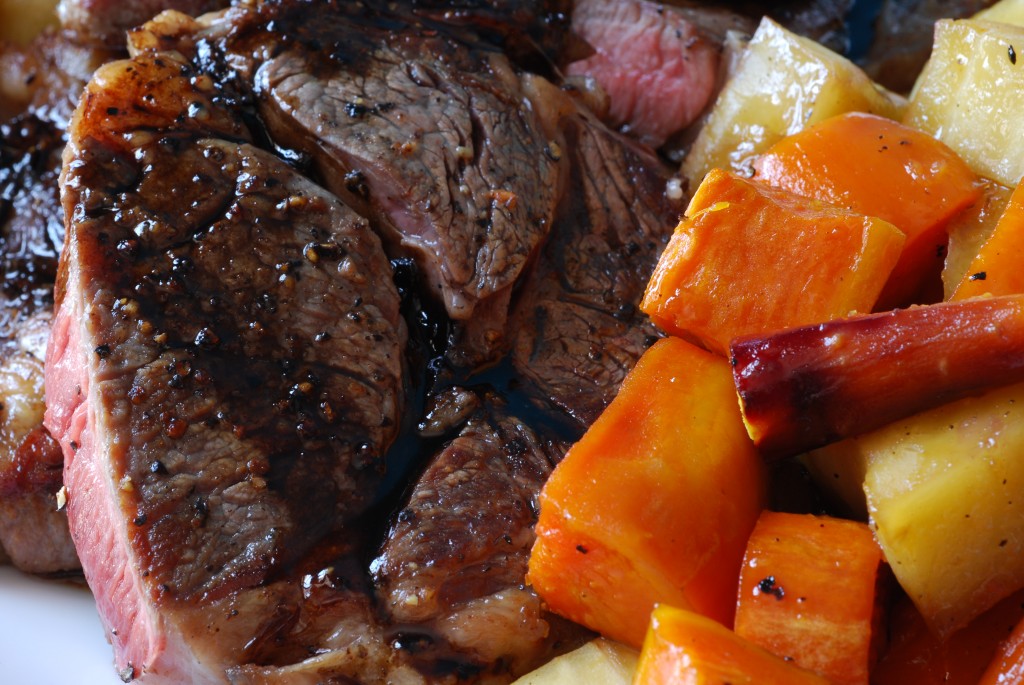 Thanks to David and Karen for the fun and unique challenge!
Maple Roasted Root Vegetables
Ingredients:
3 lbs total of parsnips, sweet potatoes and carrots, peeled and cut into 1″ pieces
1/3 cup maple syrup
2 tablespoons melted butter
1 tablespoon lemon juice (can substitute w/ orange juice)
1/2 teaspoon salt
Freshly ground pepper, to taste
Preheat oven to 400˚ F.  Place peeled/cut parsnips, sweet potatoes and carrots in 9″x13″ roasting pan. Mix butter, juice, maple syrup, salt and pepper in a bowl and pour over vegetables.  Gently toss to make sure each side of each piece is covered in the maple glaze.  Cover with foil and roast in the oven for 15 minutes.  After 15 minutes are up, uncover and re-toss vegetables.  Roast, uncovered for additional 45 minutes, re-tossing every 15 minutes.  After 1 hour total cooking time, vegetables should start to turn brown and be fork tender.
Balsamic Reduction
Ingredients:
2 cloves garlic, smashed
1/2 cup good Balsamic vinegar
1 tablespoon butter
In the same pan (on medium heat) as was used for the steak, add garlic and toast until edges just start to brown.  Add the balsamic vinegar and de-glaze the pan being sure to scrape up all the tasty brown bits.  Reduce for a few minutes until it is reduced by half and starts to look thick.  Stir in butter.  Once fully incorporated, take off heat and serve.