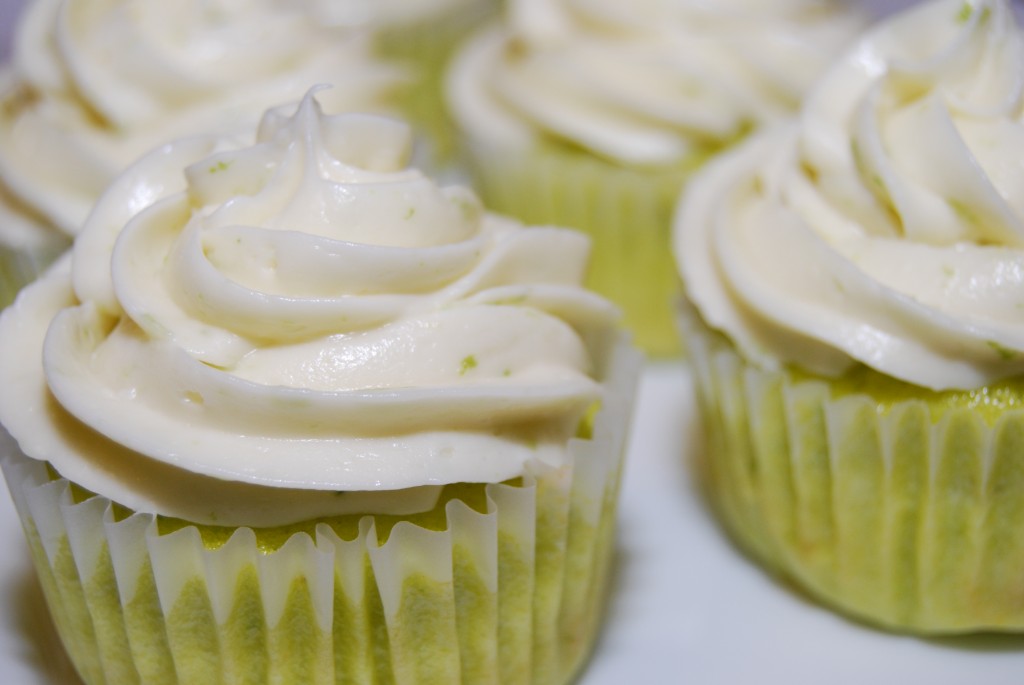 I confess… I'm not a huge fan of citrus. Everyone knows that raspberry is the fruit flavor near and dear to my heart.  But citrus… I've just never been drawn to those classic citrus desserts – lemon tarts or bars, key lime pie… the list goes on and on.  Since Steve and I have never been drawn to them, I rarely get the chance to make any of them  – you have to find people to eat the treats once you make them (not that this is particularly hard!)  But thanks to our friend, Jessica, I've been slowly expanding my repertoire of citrus desserts.  She, unlike me, has quite a fondness for citrus.  In fact, just last spring I made my first key lime pie because she was coming over for dinner.  Let me tell you, it was so simple I can't believe I had never made one before.  And for a dessert party Steve and I had, I made lemon cookies for the first time – these too were delicious.  And now, I present…  key lime cupcakes!  I saw the recipe and knew I had to make them so I could pass the recipe on to her!  So Jessica, these are for you

Like any good lime dessert, this one needs plenty of lime zest.  I needed 3 Tbsp total for the cupcakes and two types of frosting (more on this later).  I ended up using the zest of 4 limes and the juice of 2.
The cupcakes had a nice light green color to them, though you can't tell from this picture.  Like always, I used a cookie scoop to ensure equal amounts of batter in each cup.  Something nice about this recipe – it only makes 12!  Normally this might not be great, but sometimes I just don't want to find a way to give away the rest of the cupcakes.  We have neighbors upstairs which we happily share desserts with – but everyone else we know would either involve shipping baking goods or trekking them up the hill to campus.  So 12 is just perfect for us to try a couple – especially with a new recipe.  The cupcake turned out extremely moist and packed with lime flavor.  Mine turned out somewhat dense, but were still delicious!
The frosting that originally went with this cupcake recipe was a cream cheese lime frosting.  It turned out delicious on its own, but for Steve and I it was a little too much and a little too tangy for the key lime cupcake.  But I think on a vanilla cake this frosting would be absolutely delicious!
After seeing that the recipe called for a cream cheese frosting, I wondered if I could make some sort of sweetened condensed milk frosting instead.  Key lime pie, of course, is made with the stuff so why not a frosting – it would be keeping with the title of these cupcakes!  After trying both frostings on the cupcakes, this is the one that got both our votes.  It was a milder frosting which complemented the strong lime flavor of the cupcake perfectly.  I kept it nice and soft to make sure it didn't get too sweet, but I suppose you could add more sugar and make it thick enough to pipe.
The only thing missing from these cupcakes is some candied lime peel


Key Lime Cupcakes
1 3/4 cup flour
1 1/4 tsp baking powder
1/8 tsp salt
1/2 cup unsalted butter, softened
1 1/4 cup sugar
2 eggs
2 1/2 Tbsp lime juice
1 Tbsp finely grated lime zest
1/4 tsp neon green food coloring
3/4 cup buttermilk (or substitute: 3/4 cup milk with 3/4 Tbsp vinegar, stir and let sit 5 min)
Directions: Preheat oven to 350 degrees.  Line muffin pan with paper liners (makes 12 cupcakes).  Whisk flour, baking powder and salt in medium bowl.  Beat butter and sugar together in large bowl.  Beat in eggs, 1 at a time, then add lime juice, zest and food coloring.  Beat in flour mixture and milk alternately, beginning in ending with flour mixture (i.e. flour, milk, flour, milk, flour).  Spoon 1/3 cup batter into each liner.  Bake for 20-25 minutes.  Cool for 10 minutes in pan, then remove to cool completely before frosting.
Lime Cream Cheese Frosting
8 ounces cream cheese, room temperature
1/2 cup unsalted butter, softened
1 1/2 cups powdered sugar, sifted
1 Tbsp finely grated lime peel
1/2 tsp vanilla extract
Directions: Beat cream cheese and butter together until well incorporated.  Beat in powdered sugar, lime peel and vanilla extract until smooth.
Lime Sweetened Condensed Milk Frosting
1/2 cup unsalted butter, softened
7 ounces sweetened condensed milk
3/4 cup powdered sugar, sifted (or more if thicker frosting desired)
1 Tbsp finely grated lime zest
Directions:  Beat butter until smooth.  Beat in sweetened condensed milk, sugar and lime zest and beat until combined.  More sugar can be added if a thicker frosting is desired.