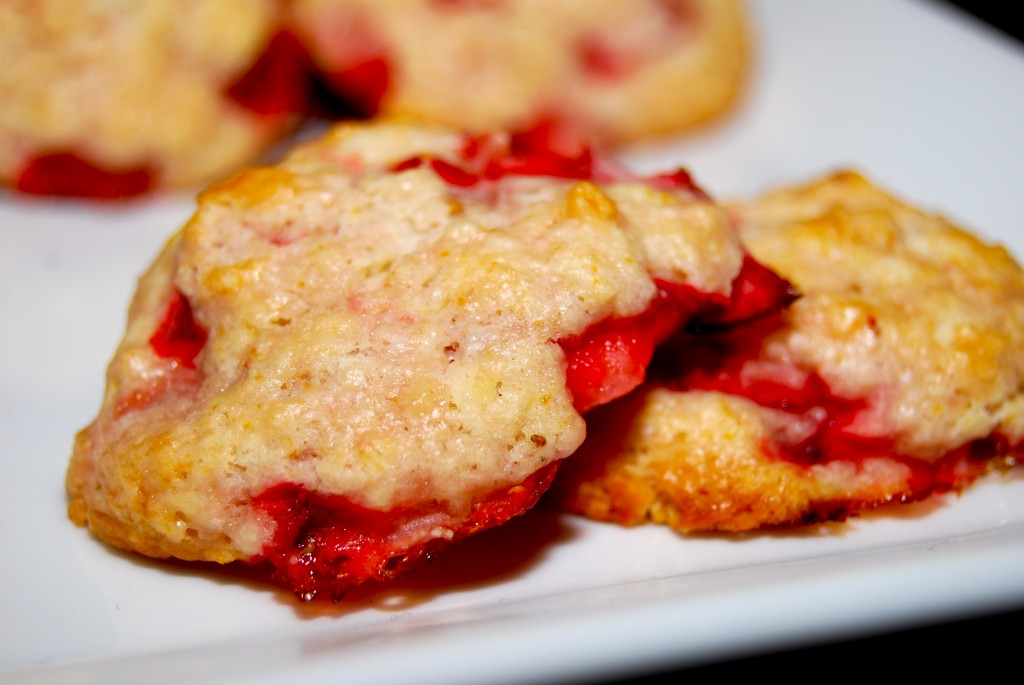 I love strawberry shortcake.  Correction… I love the strawberries with whipped cream, and not so much the shortcake part.  But that doesn't stop me from eating it every chance I get!  Never mind the strange looks I get when I leave a bowlful of strawberry-juice-drenched shortcake behind.
I just wanted to share that.  Really, this post isn't about strawberry shortcake at all – but strawberry shortcake COOKIES.  Yummy cookies with strawberries chunks.  How could you go wrong?  These cookies taste so much like strawberry shortcake, I almost whipped up some cream to go with them!  And don't worry, I ate the whole cookie – "shortcake" part and all.
Before baking…
…and after.  I think I forgot to sprinkle sugar on the tops of these.  Oops.  These cookies were great out of the oven.   And definitely not quite the same the next day.  I recommend serving as close to baking time as possible.
Strawberry Shortcake Cookies
(adapted from Martha Stewart Living)
12 ounces strawberries, hulled and chopped (about 1/4″ pieces)
1 tsp lemon juice
1/2 cup plus 1 Tbsp sugar
2 cups all-purpose flour
2 tsp baking powder
1/2 tsp salt
6 Tbsp unsalted butter, cold and cut into small pieces
2/3 cup heavy cream
Preheat oven to 375 degrees.
Combine strawberries, lemon juice, and 2 Tbsp sugar and set aside.  In a food processor, pulse together remaining sugar, flour, baking powder, and salt.  Pulse in the butter until the mixture resembles coarse crumbs.  Stir in the cream until dough starts to come together.  Stir in the strawberry mixture.
Using a cookie scoop, drop dough onto parchment-lined baking sheets.  Sprinkle with sugar and bake for about 24 minutes.  Transfer to a wire rack and allow to cool.