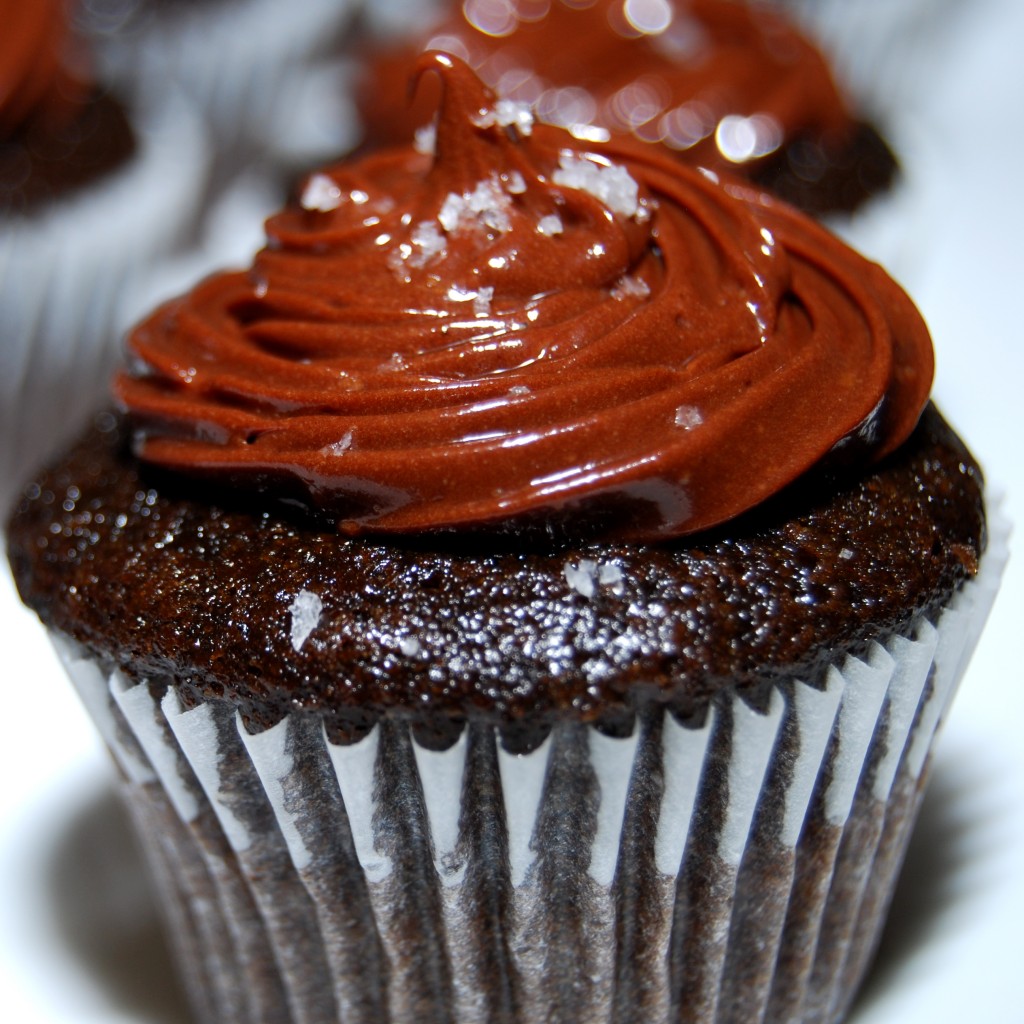 I am sadly amidst law school finals. Enough said.  However, since I'm finally coming up for air for the next few days, I figured I'd take the time to write about some cupcakes.  Delicious cupcakes.  Chocolate.  Caramel.  In mini-cupcakes.  Again, enough said.
Chocolate.
Caramel.
In mini-cupcakes.  Surprisingly enough I think actually filling the cupcakes was the quickest part of the whole process.  Although perhaps the hardest – it was so hard to resist eating all the caramel before it made it into the cupcakes.  And yes, apparently my measuring spoons were made in China…
Chocolate Salt Caramel Cupcakes
(adapted from Martha Stewart Cupcakes)
Baking the Cupcakes:

1 1/2 cups all-purpose flour

3/4 cup unsweetened Dutch-process cocoa powder

1 tsp instant espresso powder

1 1/2 cups sugar

1 1/2 teaspoons baking soda

3/4 teaspoon baking powder

3/4 teaspoon salt

2 large eggs

3/4 cup buttermilk

3 tablespoons vegetable oil

1 teaspoon pure vanilla extract

3/4 cup warm water
Preheat the oven to 350°F. Line mini muffin tin with paper liners. Whisk together flour, cocoa, espresso powder, sugar, baking soda, baking powder, and salt. Add eggs, buttermilk, oil, vanilla, and water; beat until combined.
Spoon the batter into liners about two-thirds full. Bake about 15 minutes. Cool in tray on a wire rack for about 10 minutes, then remove cupcakes and let cool completely.
Salted Caramel Filling
2 1/2 cups sugar
2/3 cup water
1 tablespoon light corn syrup
3/4 cup heavy whipping cream
2 1/2 teaspoons sea salt, preferably fleur de sel
Heat sugar with the water and corn syrup in a heavy saucepan over high, stirring occasionally, until syrup is clear; attache a candy thermometer and stop stirring.
Cook until syrup comes to a boil.  Washing down the sides of the pan with a wet pastry brush as needed. Boil, gently swirling pan occasionally, until mixture just reaches 360°F. This may take a while.  Remove rom heat and slowly pour in cream; stir until smooth. Stir in sea salt.  Use immediately.
Dark Chocolate Frosting
1/2 cup plus 1 tablespoon unsweetened Dutch-process cocoa powder
1 tsp instant espresso powder
1/2 cup plus 1 tablespoon boiling water
2 1/4 cups (4 1/2 sticks) unsalted butter, room temperature
3/4 cup confectioners' sugar, sifted
1/4 teaspoon salt
1 1/2 pounds best-quality semi-sweet chocolate, melted and cooled
Combine cocoa, instant espresso and boiling water, stirring until everything is dissolved.
Beat butter, confectioners' sugar, and salt until pale and fluffy. Slowly add melted and cooled chocolate, beating until combined and scraping down sides of bowl as needed. Beat in the cocoa mixture.
Assembling everything:
Use a knife to cut a cone-shaped piece (about 1/2 inch deep) from the center of each cupcake . No need to keep the scraps – throw them away or eat them while you're baking!  Spoon 1 to 2 teaspoons warm caramel filling into the center of each cupcake. Sprinkle a pinch of sea salt over filling.
Use a pastry bag with a medium open-star tip and pipe the frosting onto each cupcake. Garnish with another pinch of sea salt. Cupcakes best the day they are assembled – do not refrigerate.