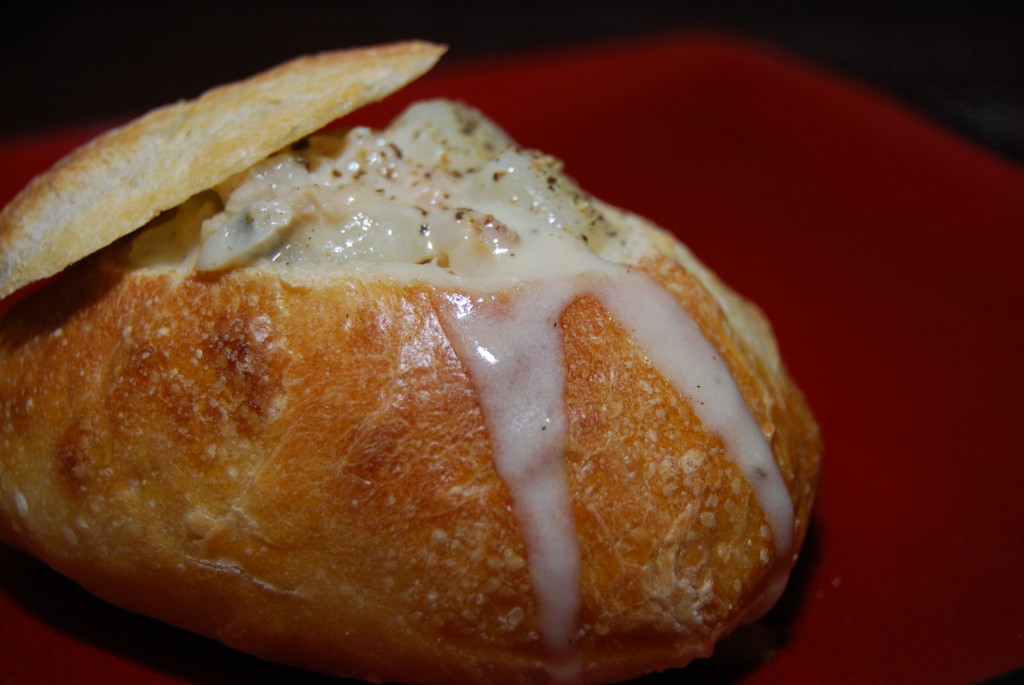 So….apparently today is National Clam Chowder Day.  I know what you're all thinking, 'how could I have forgotten my most favortist holiday of the year?'  My theory is that its probably because today is also chocolate covered peanut day and having two holidays of this magnitude coinciding is quite confusing.  In honor of this great day I'm finally posting our first attempt at this classic soup.
A couple of months ago we went to a soup and bread party.  It seemed like a simple enough premise, bring soup or bread and a healthy appetite.  Sounded like a grand old time, especially on a frigid December night in Ithaca.  The only problem was we don't eat soup or more specifically, we don't make soup.  It's not that I don't like it, just that we never even think of it as an option.  Before this, the only other time I can remember making soup was trying out a pho recipe a few months back – and even that is more of a noodle dish.  After much debate we decided on the chowder.
We ended up using a recipe from the Union Oyster House in Boston, with a few variations of our own.  All in all the chowder was pretty simple.  Shopping for the ingredients was probably the most difficult/frustrating part.  Seeing as we'd never made chowder before, neither of us had even looked for clam juice.  I figured we could find a big bottle of it or that it'd come in the same packaging as other stocks.  All we could find, and it is possible that after 20 minutes of wandering aisles we still missed it, were these tiny tiny bottles.  I mean tiny!  Like Redbull small.  We ended up getting 6 bottles (a cup a piece) and also used a quart of chicken stock.  The recipe had called for 10 cups of clam juice.  We also split the clams between frozen and canned rather than all frozen/fresh.
And of course Dana had a little fun with plating.  We picked up a few sourdough rolls.  Yes, rolls.  Dana carved one out and we spooned some chowder into it.  It was our tiny appetizer before heading over to the "souper" party.  After all, we had to test it before serving it to our neighbors.
Luckily the chowder was a hit, otherwise we would have been eating it for days and days and days.  And even though it was tasty, that's just a lot of chowder for two people.
Clam Chowder
(Adapted from Union Oyster House)
6 cups clam juice
4 cups chicken stock
2 pounds baking potatoes, peeled and diced
2 pounds frozen clams
2 pounds canned clams
1/4 pound bacon
2 small onions, diced
1 cup butter (2 sticks)
1 cup flour
1 quart half-and-half (4 cups)
Hot pepper sauce
Worcestershire sauce
In a large pot, bring potatoes, claim juice and chicken stock to a boil. Boil until potatoes are cooked. Add in the canned and frozen clams. Set aside.  Meanwhile, cut the bacon into small pieces. Render in a medium pan. Add in the diced onions and saute until translucent. Add the butter and cook until melted. Add in the flour. You should have a thick roux-like consistency. If its too loose, add in more flour. Cook until slightly colored.  Bring clams, juice and potatoes back to a boil. Add cooked flour/bacon mixture. Stir frequently or it will stick to the bottom. Add the half-and-half until desired consistency is achieved. Season to taste with salt, pepper, hot sauce, and Worcestershire.