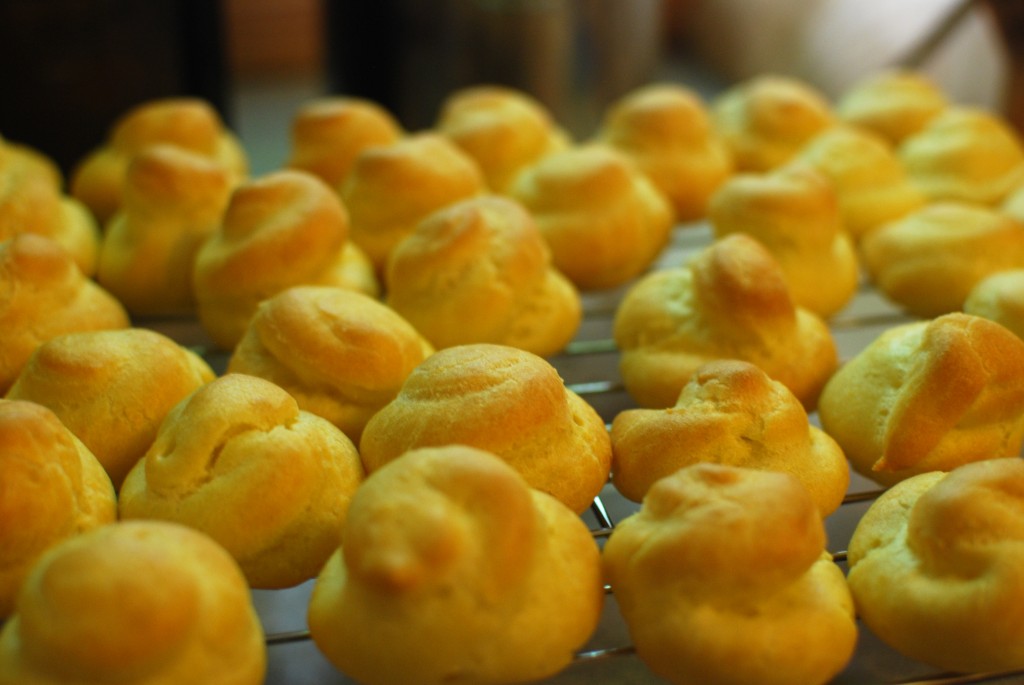 Oops… we missed this month's Daring Bakers deadline.  It's been a busy few weeks.  Steve already mentioned we were preparing our apartment for the family coming in for law convocation before the last Daring Cooks challenge.  Well that has passed, but we still have family around for my second (and hopefully last!) graduation ceremony this weekend.  But we still managed to make a feeble attempt at this month's challenge anyway.  The May 2010 Daring Bakers' challenge was hosted by Cat of Little Miss Cupcake. Cat challenged everyone to make a piece montée, or croquembouche, based on recipes from Peter Kump's Baking School in Manhattan and Nick Malgieri.
A croquembouche or piece montee is basically a tower made of profiteroles and held together with chocolate or caramel.  Before today, I had never made any sort of profiterole (or cream puff or eclair for that matter) so I was excited to hear about this month's challenge.  So were my mom and grandma when I told them yesterday that I was going to make some.  (I mentioned we've had a lot of family in town for the past few weeks, right?)
My grandma was admittedly a little confused when I first explained what I making.  To her such pastries are not profiteroles, but "choux cremes."  I feel silly now because I should have remembered that.  When Steve and I were in Japan we found a place called "Choux Creme Town,"  which was a collection of stores all selling choux cremes in the same place.  It was part of a bigger complex called Namjatown, an indoor theme park in Sunshine City in Ikebukuro, Tokyo.  Along with Choux Creme Town, Namjatown also featured Ice Cream City and Gyoza Stadium (where the gyoza makers competed to rise in the scoreboard based on customer votes).  Needless to say, we ate a lot there – including many many choux cremes.
As for my attempt at choux cremes, I think it went relatively well.  The pate a choux and pastry cream for the filling were both very simple and straightforward to make.  I started this afternoon and had 40 empty profiteroles cooling on the counter and a batch of vanilla pastry cream in the fridge in no time.
My profiteroles ended up being super small.  But that suits me just fine.  Like that's a big surprise.
Alas, I did not have a lot of time to build a towering nor impressive piece montee with the little darlings.  So I just melted some chocolate and tried the best that I could to get at least a little mound together.  Plus, I had to beat off Steve, my mom, my grandma, and my great aunt who is in town from Japan.  It's hard to make a tower when people are stealing and eating all the profiteroles before they can be put on!  I did love making these, I'm just sorry that I couldn't take my time and really have fun with the building part.  So I'll definitely make them again (and hopefully a real piece montee).