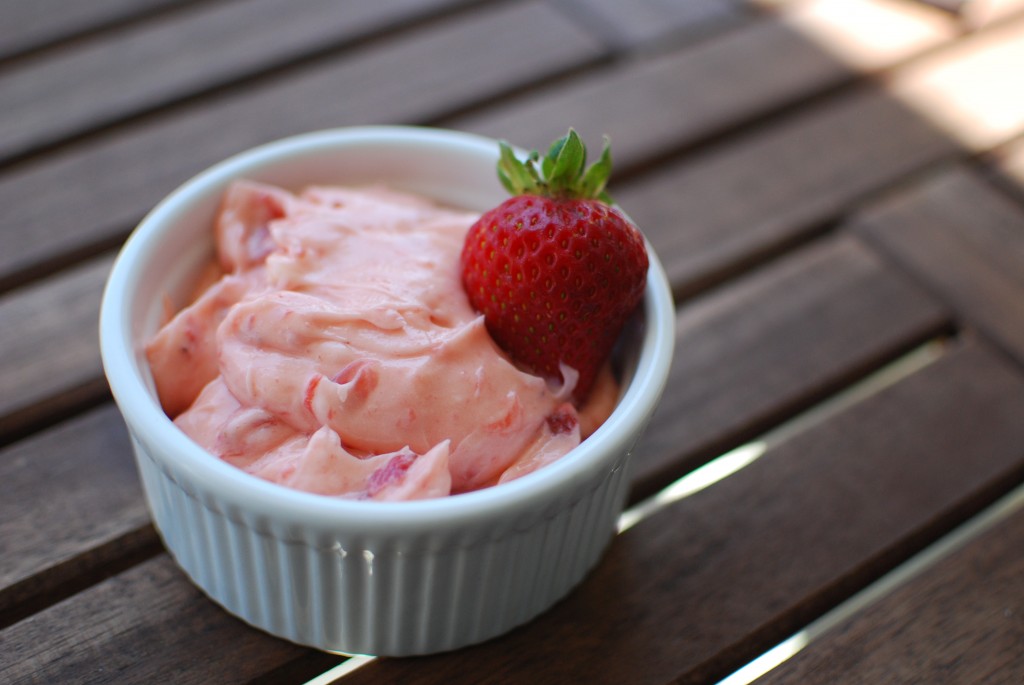 And I'm back.  Back in the kitchen.  Back to the real world.  Back to a life.  And it's wonderful!  Since the bar is over and our kitchen is (mostly) unpacked I decided I should get in there and start breaking in the new oven…. and everything else.  Figuring out where everything goes is the best part of moving right?
Anyway, this morning I made some strawberry butter.  Why?  Because I like strawberries.  And I like butter.  So it's 2-for-1 yummy.  Plus, I threw in some alcohol just to make it even yummier… or drunken-er… yeah, I'm pretty sure I'm just making up words now.  Let's just get to the pictures.
The consistency was better at room temperature (above).  But I was impatient and couldn't wait for it to warm up after taking it back out of the fridge.  Warm corn muffins were calling to me.  It wouldn't be fair to make them (or me) wait.  Hence the somewhat chunkier look below.  But chunky was still tasty.  So tasty in fact that Steve and I ate 4 corn muffins with butter before dinner tonight.  I'm going to go ahead and call them appetizers so I feel better.
The strawberry butter was easy and quick.  So there's no excuse not to make some.  Do it.  Then put it on warm muffins.  And with that final recommendation, I'm off to eat more appetizers…
Drunken Strawberry Butter
1 Tbsp sugar
1/2 Tbsp Grand Marnier
1/2 Tbsp cognac (I used a vanilla cognac)
1 tsp vanilla extract
1 cup strawberries, hulled and cut into 1/2 inch chunks
1/2 cup unsalted butter (1 stick)
1-2 Tbsp powdered sugar, depending on the sweetness of the berries
Pinch of salt
Place sugar, Grand Marnier, cognac, vanilla and strawberries in a small saucepan over low heat.  Heat until the strawberries soften and the sugar completely dissolves.  Remove from heat and let cool to room temperature.
Beat butter, powdered sugar and salt together in medium bowl.  Add in half the strawberries, trying to leave as much of the liquid behind as possible.  Beat them in until somewhat incorporated.  Add in the remaining strawberries, again leaving as much of the liquid behind as possible.  Stir until smooth (or beat if you don't like as many chunks).
Serve room temperature.