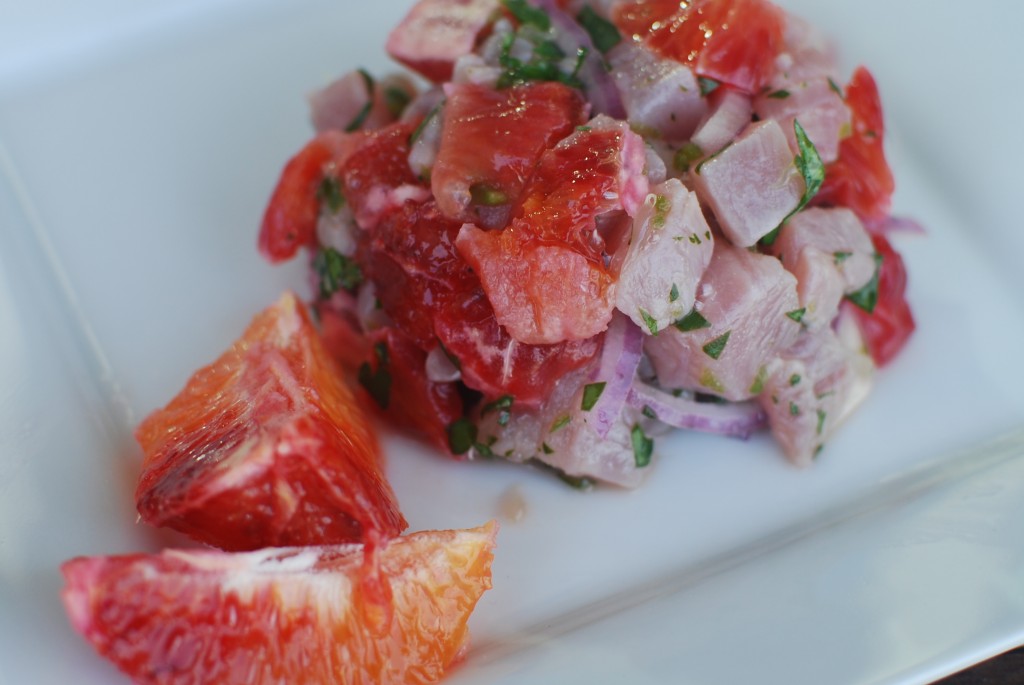 For this month's Daring Cook's challenge we had the choice of making one of two Peruvian dishes, ceviche or papas rellenas.
Kathlyn of Bake Like a Ninja was our Daring Cooks' March 2011 hostess. Kathlyn challenges us to make two classic Peruvian dishes: Ceviche de Pescado from "Peruvian Cooking – Basic Recipes" by Annik Franco Barreau. And Papas Rellenas adapted from a home recipe by Kathlyn's Spanish teacher, Mayra.
For our challenge we chose to make the ceviche.  The recipe called for a firm white fish, but we decided to make a little change and use tuna.  Last week we were up in Seattle (for our wedding) and ate at Japonessa.  The sushi chef there made us a special tuna and citrus dish that was insanely good.  I took this challenge as a chance to maybe mimic his creation.
Other than substituting the tuna, I pretty much stayed true to the recipe.  Actually that isn't true.  I realized after eating the ceviche that I forgot that oh so important "salt and pepper to taste" step.  Since I was already late, I was a little scattered making it and forgot the seasoning.  To rectify this brutal mistake we drizzled soy sauce over ours.  Oh, and because the limes I bought were about as moist as the Sahara, I threw in the juice of one blood orange as well (apparently it's blood orange season down here in San Diego).
Overall the dish was alright.  Even though I tasted the ceviche pretty quickly after tossing it in the lime juice, the citrus had already overtaken the flavor of the tuna.  By the time Dana got a taste (after work) it was REALLY citrusy.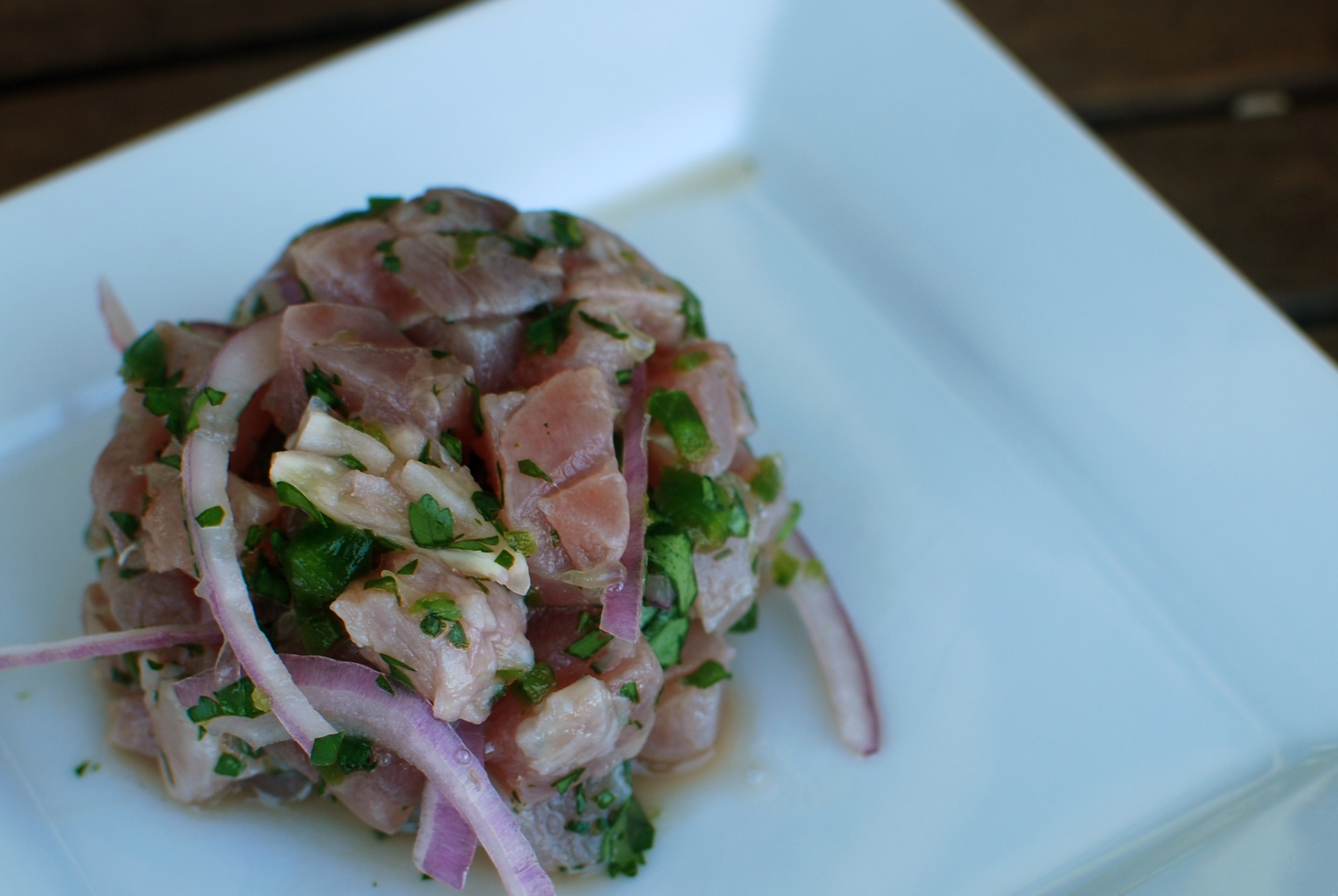 Since I had all of those blood oranges around, I decided to dice a few up and throw it in the ceviche.  It was similar to Japonessa, but still not quite the same.  It did add a nice touch of red to the dish.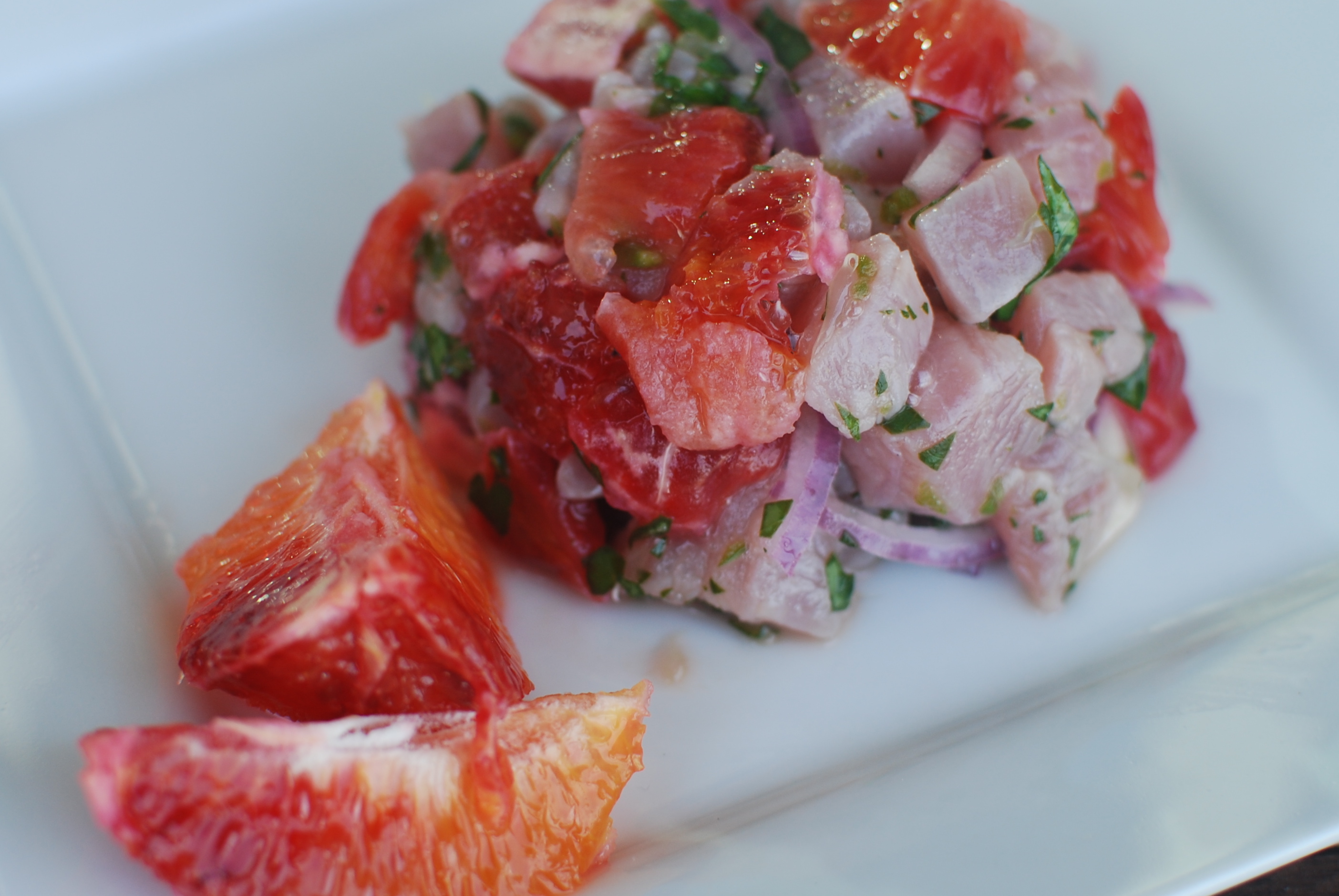 Thanks again to Kathlyn for the challenge.  When I get a chance I'll try out the papas rellenas recipe too!  As always, you can find the recipe on the Daring Kitchen site.